Work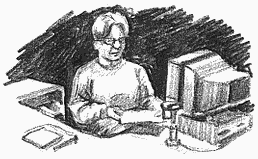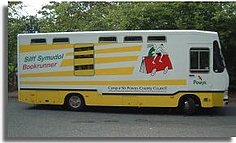 'Bookrunner' service visiting schools in Powys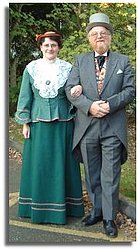 Bookrunner staff in Victorian dress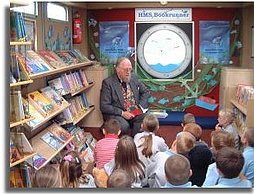 Bookrunner visit to Glanrhyd school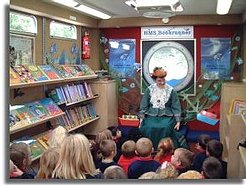 Story time at Penycae school
Librarians
Quite a few librarians submitted diaries for this project.
I woke at 6 o'clock, which is early for me, but after all today was a monumental one in the life of our library. After years of preparation we went 'live' today. I felt apprehensive but calm. I could only do my best. . . . It was quiet in the library so we managed to keep up worth issuing our readers with their plastic "Powys Red Kite" logo library cards. Computers still baffle me. We now have five and one more on the way. Three are for public use of the Internet. I spend more and more time with computers and less with books. All books and readers are now 'bar-coded' and are scanned in and out.

Frustrating day with new technology - bring back papers and pencils, or even blackboards and chalk! Had a faulty CD ROM which would not run, and spent rest of day trying to evaluate websites which would not open. I hate computers.
One person who visited a library on this day said:
Librarian grumbling about a complete reorganisation of their lending system, more new computers etc - making a simple system, which has worked for years, more complicated and more expensive.
Another worked at a university library.
This is freshers week so I covered at breaks for the teams issuing new library cards and spent much of the rest dealing with the many enquiries from new students.
This one worked in a mobile library catering for children.
I got up around 7am, had cereal and dressed in my Victorian costume which consisted of a (very!) long green skirt, jacket, lace collar, an orange hat with flowers and a brooch.

Living next door to the library means I can leave two minutes before I start work! I arrived at 8am and had photos taken with my colleague who also dressed up. We left town at approx 8.30am in the Bookrunner and arrived at our first primary school around 9,45am. We made the headmaster jump when he met us! My colleague read "Fix it Duck" to the nursery/reception class and I read "The Baby Bee Bee Bird" complete with sound effects provided by the Year 1 and 2 children!

We finished all the classes by 12 noon and were offered lunch at the school - my first school dinner for ages! It was chicken curry, chips and rice and a doughnut. We were presented with a little card duck as a thank you for reading the story of "Fix it Duck".
---
The diary of a local studies librarian can been seen
here
.