Work
Professionals in Broad Street, Newtown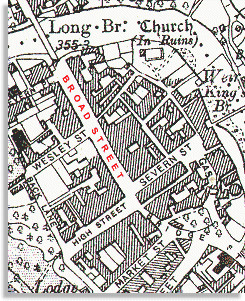 Map of Newtown centre
Powys County Archives
Broad Street was considered prestigious enough for various professionals to set up practice (and home) there.
There were three doctors in 1891, and they demonstrated quite different households.
Harold Palmer had recently taken on a partner in young, newly qualified George Silver from Scotland. Harold and his wife had 2 female servants.
Charles Gowan was a surgeon who lived next door. In addition to his wife and three daughters, he retained three servants and was clearly prosperous. He had been resident in the town at least since the birth of his daughter Mabel eight years before.
Finally, the Irish doctor Humphrey Worthington had only a housekeeper but also took in a lodger.
1891 Census
21 Broad Street
Name
Position in
household
Marital
status
Age
Occupation
Place of Birth
English/Welsh
speaker
Harold L Palmer
Head
M
39
Medical Practitioner
Haverfordwest Pembroke
English
Susannah Palmer
Wife
M
40
Havant Middlesex
English
George S Silver
Partner
S
25
Medical practitioner
Scotland
English
Elizabeth Jones
Serv
S
25
Domestic servant
Llanerfyl Mont
Both
Annie Morcroft
Serv
S
20
Domestic servant
Staffordshire Stafford
English
22 Broad Street
Charles Gowan
Head
M
41
Physician & Surgeon (duly registered)
Scotland
English
Frances M A Gowan
Wife
M
35
Ireland
English
Edith M Gowan
Dau
18
Scholar
? Yorks
English
Mabel C M Gowan
Dau
8
Scholar
Newtown Mont
English
Frances W Gowan
Dau
3
Scholar
Newtown Mont
English
Mary Francis
Serv
S
26
Cook
Salop
English
Mary J Jones
Serv
S
19
Nurse
London
English
Matthew Jones
Serv
S
17
Groom
Bishops Castle Salop
English
30 Broad Street
Humphrey Worthington
Head
M
27
Physician
Dublin Ireland
English
Sarah Lucas
Serv
Wid
50
Housekeeper
Mont Llanmerewig
English
Sarah A James
Boarder
S
20
Seamstress
Birmingham
English
There was also a solicitor's office at no. 44 although the proprietor did not live there.
This was not the case for the bank manager, however, who did live over the shop. The widower Richard Jones was the manager of the National and Provincial Bank of England and lived with his 2 daughters and 2 servants.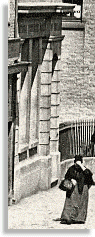 9 Broad Street
from a
larger photo
Powysland Museum and
Montgomery Canal Centre
1891 Census
9 Broad Street
Name
Position in
household
Marital
status
Age
Occupation
Place of Birth
English/Welsh
speaker
Richard Jones
Head
Wid
55
Bank Manager
Anglesey
Both
Phoebe J Jones
Dau
S
29
Holyhead Anglesey
English
Mary J Jones
Dau
S
27
Holyhead Anglesey
English
Annie Roberts
Serv
S
23
Housemaid
Llandyssil Mont
English
Margaret Pritchard
Serv
S
20
Cook
Llandyssil Mont
English
---