Work
Broad Street, Newtown

Map of Newtown
Colour added for emphasis
Powys County Archives
In 1891, Broad Street was the main shopping street in Newtown, as it had been for some considerable time. Its origin as a market area was in the Middle Ages, and until the middle of the nineteenth century, there was a market hall in its centre.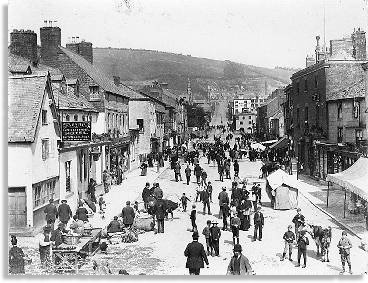 Broad Street, Newtown, c1890
Powysland Museum and Montgomery Canal Centre
It still had many different commercial premises by the time the 1891 census was undertaken. The enumerator helpfully annotated the ROAD, STREET, &tc and No. or NAME of HOUSE column of the census form with details of the property's name or function. There were different types of properties: dwellings not used for commercial purposes, hotels and pubs, professionals and small businesses. A few were uninhabited but in the majority of cases the people who ran the various establishments lived over the shop.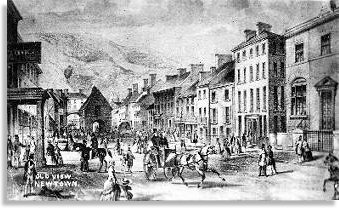 View of Broad Street, Newtown, c1870
Powysland Museum and Montgomery Canal Centre
---