Work
Occupations of Residents of Oddfellows Street, Ystradgynlais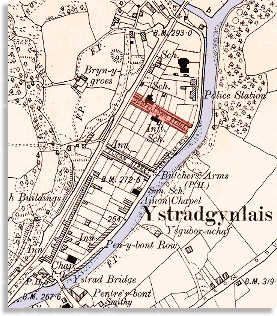 Oddfellows Street, Ystradgynlais, 1906
Colour added for emphasis.
Powys County Archives
Oddfellows Street is part of the 'Island' on which Ystradgynlais is centred and runs from the canal to the river. Parallel to Pelican Street, in 1891 it contained 2 schools.
Many of the people who lived there in 1891 were not employed or did not give their occupation to the enumerator. However, most of those working were employed in coal mining.
An interesting point regarding the 1891 census is that the enumerator often wrote down details in Welsh - in fact many of the local residents spoke only Welsh. However, at some point the census was changed so that Welsh entries were crossed out and English words substituted.
You can find out more about this area of Ystradgynlais on the Powys Digital History Project.
1891 Census
Oddfellows Street, Ystradgynlais
Name
Age
Occupation
Name
Age
Occupation
John Thomas
29
Coal miner
Joan Thomas
?
Domestic servant
Margaret Evans
68
Laundress
William Jones
78
Saddler
Howell Powell
21
Coal miner
William Jones
57
Saddler
William Jones
22
Carpenter
Sarah Nicholas
56
Domestic servant
William Hughes
33
Packer
John Rees
60
Coal miner
Mary Jones
23
Duster in Iron works
John Jenkins
60
General labourer
Phillip Hopton
24
Mason
Titus Jenkins
31
Coal miner
James Jones
19
Coal miner
Thomas Davies
42
Coal miner
William Samuel
55
Roadman
David Davies
16
Coal miner
John Thomas
35
General labourer
Rees Williams
79
Retired shoemaker
John Bevan
46
Timekeeper and weigher
in ironworks (?)
John Morgan
60
Coal miner
Lewis Jones
45
Blacksmith
John Jones
31
Checkweigher
Thomas Jones
19
Coal miner
David Morgan
25
Coal miner
John Walter Jones
19
Blacksmith's striker
Thomas Morris
40
Coal miner
Maurice Cox
29
General labourer
Thomas John Morris
16
Haulier
William Cole
28
General labourer
---