Work
Occupations of residents of Pelican Street, Ystradgynlais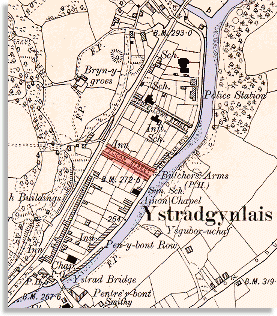 Pelican Street, Ystradgynlais, 1906
Colour added for emphasis
Powys County Archives
Pelican Street is part of the 'Island' on which Ystradgynlais is centred and ran from the canal to the river. It ran parallel to Oddfellows Street and contained a pub. The Butcher's Arms was run by the licensee Frederick Jones who lived there with his wife Mary, their five children and a 15 year old servant, Rachel Griffiths.
As with Oddfellows Street, the largest occupation was that of coal miner. In fact, over half were employed in the coal industry, with 31 miners, two labourers, one haulier and one 16 year old collier's mate. Even boys as young as 14 were employed as miners.
However the street also had some less usual professions, such as the clock and watch maker, the wood feller, the tailor and the well sinker. It also contained a pupil teacher, 18 year old Gwen Edwards, who perhaps worked at one of the schools in Oddfellows Street. An accountant lived next door - Dafydd Tomos Davies - with his widowed mother, Mary.
As well as Gwen Edwards, there were other working women living on Pelican Street. A few were domestic servants, and half a dozen were dressmakers. One was a duster: these women were employed in the iron works on machinery used to clean off residues accumulated during the manufacturing process. However, many women would have worked but not informed the enumerator that they had an occupation of any kind.
You can find out more about this area of Ystradgynlais on the Powys Digital History Project.
1891 Census
Pelican Street, Ystradgynlais
Name
Age
Occupation
Name
Age
Occupation
John Mansel Thomas
68
Tailor
Frederick Jones
39
Licensed victualler
(Butcher's Arms)
David Jones
54
Coal miner
Rachel Griffiths
15
Domestic servant
Jemima Jones
25
Dressmaker
John Williams
47
Coal miner
Lewis Owen Davies
26
Coal miner
Thomas Phillips
18
Coal miner
John Phillips
50
Shoemaker
William Davies
33
Coal miner
Thomas Rees
65
Coal labourer
Thomas Thomas
71
Labourer
Thomas Davies
75
Clock and watch maker
Thomas Williams
55
Engine driver
Sarah Evans
46
Dressmaker
William Williams
22
Coal miner
Rees Lewis Evans
25
Coal miner
Sarah A Williams
17
Domestic servant
Alice Evans
23
Duster
Elizabeth Williams
15
Home as servant
John ? Evans
14
Coal miner
Lewis Williams
12
Coal miner
David J Davies
18
Coal miner
David Morris
29
Coal miner
Jane Davies
16
Dressmaker
Daffyd Tomos Davies
32
Accountant
Morgan Jones
26
Coal miner
Mary Ann Edwards
17
Dressmaker
Griffith Jones
20
Haulier
Nowell Edwards
41
Coal miner
Benjamin Jones
50
Coal miner
Gwen Edwards
18
Pupil teacher
Thomas Jones
22
Haulier
Tom Edwards
15
Coal miner
William Jones
17
Coal miner
Samuel Jones
46
Coal miner
David H Jones
16
Coal miner
Thomas Jones
19
Coal miner
Evan Jones
14
Coal miner
William Jones
34
Coal miner
Thomas Hopkins
72
Retired greengrocer
John Evans
50
Coal miner
Thomas Hopkins
24
Coal miner
Rees Evans
18
Coal miner
David Walters
50
Hostler
Gwen Evans
16
Dressmaker
Mary Walters
38
Housekeeper
Lewis Evans
14
Coal miner
John Williams
25
Coal miner
John W Jones
24
Coal miner
Abel Horrels
52
Well sinker
Thomas Rees Evans
46
Colliery haulier
William Horrels
20
Coal miner
William Rees Evans
19
Coal miner
Thomas Morgans
21
Coal miner
Evan Evans
16
Collier's mate
William Owens
26
Coal miner
John Evans
14
Collier's labourer
Frederick Hopton
70
Stonemason
John Jones
30
Haulier
James Pritchard
24
Grocer's assistant
Griffith Griffiths
62
Wood feller
Naomi Davies
21
Dressmaker
---