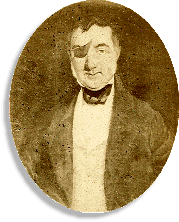 Photograph of a portrait
of an unidentified man
by John Owen,
and Owen's signature
Powys County Archives
Work
Pictures and Photographs
The expensive and specialised business of photography was catered for in Broad Street by John Owen. His studio at number 49 had been in operation for some years. In 1881, he had described himself as married but his wife was not at number 49 at census time. By 1891, he was a widower. It is quite possible that he took the photograph of Broad Street, Newtown, that has been so useful.
1891 Census
49 Broad Street
Name
Position in
household
Marital
status
Age
Occupation
Place of Birth
English/ Welsh
speaker
John Owen
Head
Widwr
61
Photographic publisher
Mont Montgomery
English
Sarah Owen
Sister
S
52
Housekeeper
Mont Montgomery
English
Mary Williams
Serv
S
25
Servant domestic
Mont Bettws
English
Pictures, on the other hand, were dealt with by Sarah Pritchard.
17 Broad Street
Name
Position in
household
Marital
status
Age
Occupation
Place of Birth
English/Welsh
speaker
Sarah Pritchard
Head
Wid
57
Picture dealer
Llanwnog Mont
English
John Pritchard
Son
S
31
Painter and plumber
Newtown Mont
English
Philip Pritchard
Son
S
21
Painter and plumber
Newtown Mont
English
---