Work
The Post Office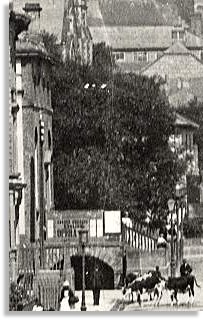 Post Office, Newtown,
from a larger photograph
Powysland Museum and
Montgomery Canal Centre



Newtown's Post Office was located at 26 Broad Street. Sutton's Directory describes the services provided as:
Post Office, Broad Street, T A Foster, Post master. Letters arrive from all parts at 7am and 4.40pm on weekdays, and at 9.30am on Sundays. Letters are despatched to all parts at 10am and 7.15pm (on Sundays at 7.15pm only). To Shrewsbury, Stafford and London at 2pm; to Llanidloes, Machynlleth, Aberystwyth, etc, at 9pm. Money Order, Savings Bank and Telegraph Office.
Postmasters were well paid and Thomas Foster was able to employ a servant. His position also enabled him to employ various relatives to help out in the office.


Penny Postage Jubilee, 1890
Radnorshire Museum
1891 Census
26 Broad Street Newtown
Name
Position in
household
Marital
status
Age
Occupation
Place of Birth
English/Welsh
speaker
Thomas A Foster
Head
M
50
Postmaster
Congleton Cheshire
English
Catherine L Foster
Wife
M
46
Oswestry Salop
English
James A Foster
Son
9
Scholar
Oswestry Salop
English
George E Foster
Son
8
Scholar
Oswestry Salop
English
William J Foster
Son
7
Scholar
Oswestry Salop
English
Thomas A Hodges
Nephew
S
24
Post Office Clerk
Hackney Middlesex
English
Lucy V Hodges
Niece
S
22
Post Office Assistant
Hackney Middlesex
English
Jenny C C Hodges
Niece
S
19
Post Office Assistant
Ringland Middlesex
English
Cecilia Hodges
Niece
S
15
Post Office Assistant
Oswestry Salop
English
Fanny Jones
Serv
S
18
Domestic Servant
Churchstoke Salop
English
Other Victorian photos of post offices in Powys can be seen on this page or click on the image below.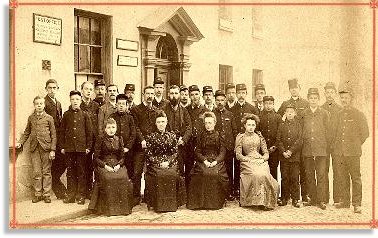 Staff of Brecon Post Office c1890
Brecknock Museum and Art Gallery
---