Work
A day in the life of a shopkeeper
I do a little bed and breakfast - so first thing cooked breakfast for a couple (Italians) at 8.30am. A glorious sunny day so after they had eaten breakfast I hung out the washing (bedlinen), got ready and left to open my shop/gallery for 10am. Changed one of my two window displays so that window cleaner could clean inside, as well as outside, window. Missed getting my lunch roll before opening up, as usual, so closed for 10 minutes at 11.30am to dash up the road to get my lunch. However, before eating two friends called and invited me to lunch with them at the White Lion, so I closed for an hour - very daring.
The new police sergeant called earlier to see if I had heard or seen anyone stealing the appeal box from the clocktower railings. I hadn't. An acquaintance called pm. Her son told her last night that he was gay and knowing that I am she wanted just to relieve her tension by talking. She went out feeling a lot better.
4pm business quiet. A friend called to discuss "An Inspector Calls" which she saw last Friday (we performed Thurs- Sat 19-21st September - The Barbarians - the Tabernacle). She enjoyed it and especially liked the set.
Closed the shop at 5pm - hardly any business. Went to visit mother. She moved rooms at the weekend and a man was there when I arrived fixing her shelves onto another wall. So I got her wheelchair and rushed her out around the town . We went into Spar and the Co op and then around the Plas. It was still a wonderful day as we passed Celtica and the Owain Glyndwr monument. We got back about an hour later. The shelves were in position so I stayed awhile to settle her then came home.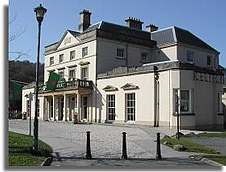 The washing was dry and the house was aired, and now after supper I sit viewing the evening sky of sunsetting pink clouds and greying blue sky. After a doze I visited my friend. Because of the play rehearsals and other social calls I haven't visited her for ages. She has been having a hard time of late at work and she needs sometimes to unwind just by talking about things. This we did till about 10.30 when I trotted home, checked my emails, checked Gaydar for a few minutes but am getting bored with all that, and am now sitting in bed writing this. Will now just read for a while before going to sleep.
---