Work
Small Businesses in Broad Street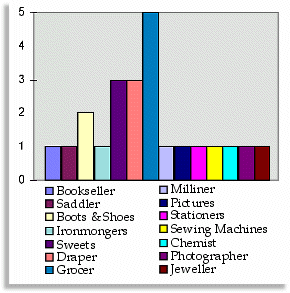 Click on the image for more details of
the people who ran these businesses
The shops and small businesses occupying most of Broad Street in 1891 were many and varied, as could be expected for a large town in mid Wales. If anything, it reflected the prosperity of Newtown at the time, with a selection of different retailers - the more basic shops such as greengrocers sitting alongside more specialised shops like photographer's studios.
This graph shows the different types of shop which existed in Broad Street at the time.
As well as the various shops, there was also a Post Office.
---