Work
Writers
Writers of various sorts submitted diaries to us.
We bought this cottage in 1971 when we were both teaching at the Polytechnic in Birmingham and always intended to retire here, which we did in the early 1980s. I was fortunate enough to be able to take early retirement and have since pursued a number of mostly unpaid mini-careers - in the Women's Institute, on the Central Region OFWAT Customer Service Committee, editing and writing. I still do a lot of writing - local and family history and in the field of children's literature, but life has now slipped into a pleasant domestic routine, with a little socialising and with short breaks away from home . . . I am a lark so am often up before 7 a.m. as I was today. I often write but today I had a bath and then took a cup of tea back to bed and read until 9 a.m. when I got up. I am currently reading or rereading Judith Kerr's A SMALL PERSON FAR AWAY, which is about to be published in a new omnibus edition, 'Out of the Hitler Time', of which I've just received a review copy. By chance I had a query about this trilogy from a friend last week and have been dealing with it - I do get enquiries from all over the country, probably about 20 a year.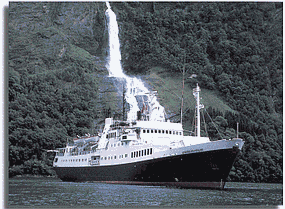 The expedition ship
Settled down to letter-writing at noon, then typed a batch of poems to send to literary magazine. Postman arrived at 11.45 but did not bring much exciting mail today; more adverts than personal mail. Still waiting to hear from publisher . . . 10.30 p.m. Decided to go to bed early tonight and read a few more chapters of the new biography of the war poet, Wilfred Owen, which I have to review for the Wilfred Owen Association based in Shrewsbury.
I work away from home - as an expedition historian on a small expedition ship - for 6 months of the year. For the remaining 6 months I work as a writer and lecturer from home in Machynlleth. On 24th September 2002 I was sailing from Greece to Croatia, with fine views between Corfu and Albania in the narrow strait. I gave a presentation on the Balkans conflict.
---
A day in the life of a biographer can be seen
here
.