1891

In English

Hafan

Addysg

Amodau Cymdeithasol

Bywyd yn y Cartref

Cyfraith a Threfu

Cymuned

Diwylliant

Gofal Iechyd

Gwaith

Powys: Y Pryd Hynny a Nawr

Trafnidiaeth


Mynegai


E-bost






Amodau Cymdeithasol
Potes y Diafol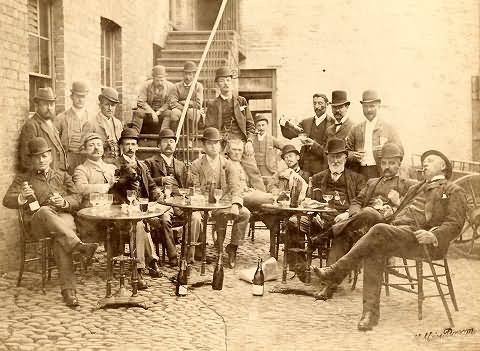 Yn yr iard ar bwys Gwesty'r Wellington, Aberhonddu
ddiwrnod ar ôl ymweliad Dug Clarence ar 17 Medi 1890
Amgueddfa & Oriel Gelf Aberhonddu
Mae'n amlwg fod alcohol a'r problemau a achosai yn peri pryder mawr. Yn y Sesiwn Chwarterol ar 30 Mehefin 1891, fel yr adroddwyd yn y Brecon & Radnor Express ar 3 Gorffennaf 1891, dywedodd y Cadeirydd:
"THE CHARGE TO THE GRAND JURY.

The Chairman in his charge, at once proceeded to refer to the cases in the calendar; and respecting the case against Thomas Price, charged with destroying tombstones in the Priory Churchyard, he said that prisoner seemed to have been under the misapprehension that these tombstones had been placed on the family grave, and his tombstones removed. So far as he could learn, it was an entire misapprehension on his part. In conclusion, the Chairman said he should like to point out to the public that out of the four men accused of crime at this Quarter Sessions three had got into trouble through drink, and it was rather sad to think that according to the depositions, out of three prosecutors two of those prosecutors assisted the commission of the crime by being drunk themselves. There was so little crime in this county except that which, unfortunately, arose from this terrible vice of drinking, that he thought it would not be out of place to call the attention of the public to the fact of the trouble and crime arising from that source."
Roedd yr adroddiad yn y Brecon & Radnor Express ar 9 Ionawr 1891 yn cynnwys ychydig yn rhagor o ffeithiau:

"CHIEF CONSTABLE'S REPORT - INTERESTING
STATISTICS - THE AMOUNT OF DRUNK-
ENNESS IN THE COUNTY.

The Chief Constable reported the police force complete in numbers, and that there had been no change in the constitution of the force since the date of his last quarterly report, and the police duties had been satisfactorily performed. During the quarter 162 persons were convicted and dealt with summarily for offences committed out of 209 proceeded against. Seventy of the convictions were under the head of drunk and disorderly, 10 for petty larceny, and 32 for common assault. Five indictable offences were reported to the police, and five persons were apprehended, one being discharged. Money and property of the value of £46 11s 5d were reported to the police as stolen during the quarter, and of this amount £45 1s 11d was recovered. Under the Licensing Acts six publicans had been proceeded against, and two convicted, with one endorsement of license. 805 vagrants were relieved by the police, showing a decrease of nine as compared with the corresponding period of last year. Attached to the report was a return, showing the number of persons proceeded against in the various petty sessional divisions during the quarter for being drunk and for being drunk and disorderly - viz., Brecon, 4, for being drunk and for being drunk and disorderly; Merthyr Cynog and Penkelly, 1 and nil; Builth, nil and 3; Penderyn, 4 and 2; Devynnock, 1 and 4; Ystradgynlais, 3 and 5; Llanwrtyd, nil and nil; Crickhowell, 7 and 2; Brynmawr, 3 and 2; Hay, 6 and 11; Talgarth, 4 and nil; total, 33 drunks and 37 drunk and disorderly cases.
Col. Thomas: I should remark that they were men who came into Hay from the county of Radnor.
Rev. Dr. Walters: You are trying to whitewash them. (Laughter.)
Capt. Hotchkis: No matter where they come from. There is the fact.
Dr. Walters: A great deal of our business (at Ystradgynlais) is in connection with St. Mabon's Day.
The report was adopted."
Roedd Diwrnod Mabon yn ddiwrnod o wyl i lowyr De Cymru ar ddydd Llun cyntaf y mis. Dim ond am ddeng mlynedd y bu'n bodoli, o 1888 hyd at 1898. Enwyd y diwrnod ar ôl yr Aelod Seneddol William Abraham, a gâi ei adnabod yn lleol fel Mabon, gan mai drwyddo ef y cafodd ei sefydlu. (Mwy o wybodaeth ar Mabon yma: http://members.tripod.com/~BDaugherty/cymru/people.html ahttp://home.clara.net/tirbach/Waun/Coal.html)
Ar 21 Ebrill 1891 roedd y pytiau canlynol ynghylch gor ddefnydd o alcohol yn y Montgomeryshire Express & Radnor Times:
"The Week's News.

"Dr L. Brunton has reminded a Parliamentary Committee of experiments which have shown that intoxication by beer or wine make a man fall on his side, while whiskey has a tendency to bring him prone on his face, and cider or perry, taken in overdose, throws him prostrate on his back.""

"Wales and Welshmen.

"Paying a fine in Farthings. A short time ago, a working man at Aberystwith, who had been keeping his Easter holiday "not wisely but too well," was fined half-a-crown by the local magistrates for drunkenness, and was allowed a few days grace to enable him to find the money, but he abused their leniency by spending the time collecting farthings wherewith to pay the penalty imposed. As the lowest coin of the realm is scarcely ever used in the district, he found great difficult in obtaining as many as he wanted. He collected, however, 114, and added three halfpence to make up the required sum, which he duly tendered to the officer in charge at the police station. The constable refused at first to accept the farthings; but upon looking up the law upon the subject found that "coppers" were a legal tender up to 5s; and came to the conclusion that he must not refuse them. The police officials are puzzled how to dispose of them, and hope the example will not be generally followed."
---