Community & Civic Life
Cefncoedcymmer Bridge
Powys County Archives
The Main Roads Committee of Breconshire County Council met on 17th July 1891, and considered many bridge repairs and road works during the meeting. One of these bridges was at Cefncoedcymmer. The 14 aldermen and councillors gave special consideration to this matter when a group of local residents attended the meeting to present its case: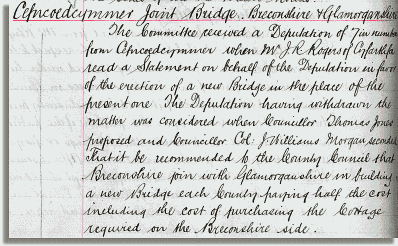 Committee Minutes
Powys County Archives
"Cefncoedcymmer Joint Bridge. Breconshire and Glamorganshire
The Committee received a Deputation of 7 in number from Cefncoedcymmer when Mr J R Rogers of Cyfarthfa read a Statement on behalf of the Deputation in favour of the erection of a new Bridge in the place of the present one. The Deputation having withdrawn the matter was considered when Councillor Thomas Jones proposed and Councillor Col. J Williams Morgan seconded that it be recommended to the County Council that Breconshire join with Glamorganshire in building a new Bridge each County paying half the cost including the cost of purchasing the Cottage required on the Breconshire side."
However, the matter was not recommended to the full Council until a couple of the committee members had a rethink on the cost of the enterprise: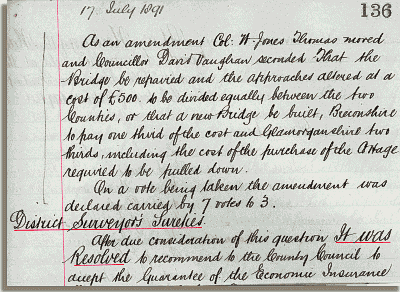 Committee Minutes
Powys County Archives
"As an amendment Col W Jones Thomas moved and Councillor David Vaughan seconded that the bridge be repaired and the approaches altered at a cost of £500 to be divided equally between the two Counties, or that a new Bridge be built, Breconshire to pay one third of the cost and Glamorganshire two thirds, including the cost of the purchase of the cottage required to be pulled down.
On a vote being taken the amendment was declared carried by 7 votes to 3."
For more information on Col W Jones Thomas, visit this page.
A Roger Rogers appeared in the Cyfarthfa census on 1891 and may well have been the head of the bridge delegation:
1891 Census
3 Taff Street, Cyfarthfa
Name
Position in
household
Marital
status
Age
Occupation
Place of Birth
English/Welsh
speaker

Roger Rogers

Head

M

66

Steel worker

Glamorgan Morriston

Both

Mary Rogers

Wife

M

63

Machynlleth

Both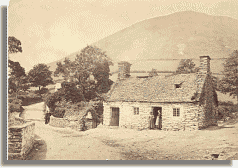 Cottage by bridge
Powysland Museum and Canal Centre
---