Community & Civic Life
Breconshire County Council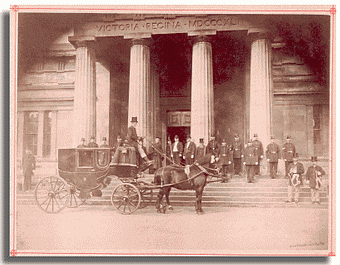 Old County Hall (Shire Hall), Brecon
Brecknock Museum and Art Gallery
Meetings of the County Council took place every quarter at the County Hall in Brecon. The meeting on 7th August 1891 was attended by 38 councillors and aldermen of the county under the chairmanship of Charles Evan Thomas. One of the councillors was Joseph Russell Bailey, Bart. MP. County councillors had been elected following the 1888 Local Government Act, when the county councils had been established. They held their first meeting on 7th February 1889.
Aldermen were co-opted - or appointed by invitation of the other councillors - to hold special office which ranked next in dignity to that of mayor. They retired after a set period, and new aldermen were co-opted. One of the aldermen in post at this meeting was William Jones Thomas of Llanthomas, Hay.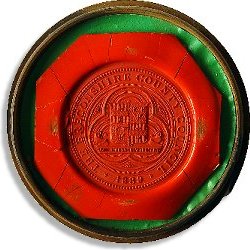 Seal of Breconshire County Council
Brecknock Museum and Art Gallery
The meeting on 7 August 1891 was typical of county council meetings of the time. Reports from various committees were read and adopted by the Council. Correspondence from interested parties was given consideration; this ranged from the formation of a County Council Association to the foundation of musical scholarships at the Royal College of Music.
Other matters included the sale of toll houses, the repair of Cefncoedcymmer Bridge, insurances, collection of tolls at Llanwrytd from people obstructing the road with booths and stalls, the setting up of lectures on agriculture and dairy instruction, as well as various motions proposed which were not carried.
By far the bulk of the minutes of the meeting consisted of quarterly accounts. These dealt with payments for salaries, expenses, repairs, rates, loan payments and the care of pauper lunatics. In all, the Council's budget for the quarter amounted to £3265/1/11.
A surprisingly large amount of the Council's budget went on printing costs. The tender received from Edwin Davies gives an insight into the range of responsibilities undertaken by the County Council at this time.

---