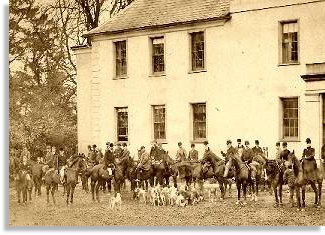 Brecon Hounds at Tregunter (detail)
Brecknock Museum and Art Gallery
The nineteenth century witnessed the development and increased popularity of many sports, as the concept of leisure was extended across the social spectrum. Much of the drive to encourage leisure as a beneficial pastime for body and soul was led by the middle classes, and many clubs were formed to promote various sports.
Hunting was a well-established sport. This picture shows the Brecon hounds meeting at Tregunter in around 1890.