Education
A year in the life of Abbeycwmhir National School
Emily Taylor was the 40 year old schoolmistress in sole charge of the small village school in Abbeycwmhir, Radnorshire, in 1891. She found herself trying to maintain the high standards required by the school's inspectors in the face of constant absenteeism, and later her own ill-health.
It was a year of severe winters at its opening and close. Many pupils had to travel long distances to get to school, and this made a dent in the attendances. On the opening day of the school only 5 children were in attendance initially, falling to only 2 the next day.
It was not only the weather that caused problems. Children were often kept from school to help with work or earn money for the family. One boy, Pryce Powell, was kept away from school employed as a grouse beater. He was then prevented from returning to school as he had no boots - a problem for many children throughout the year.
| | |
| --- | --- |
| | "Price Powell has been out twice since Xmas, but his boots have suddenly become too small or his feet increased in dimensions, consequently he cannot attend school." |
However, by far the principal cause of absence was illness. The children suffered badly with colds and sore throats:
| | |
| --- | --- |
| "John H Price, Leonard Evans and Annie Griffiths have very bad colds and are coughing incessantly, they quite interrupt the work of the school." | |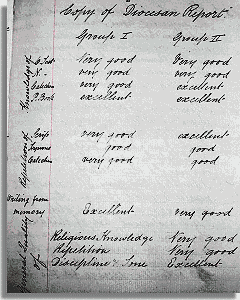 In May, a severe bout of influenza caused the closure of the school for 3 weeks when Miss Taylor herself fell foul of the illness. On her return in July, she visited one family at The Groes where the children had a long distance to travel.
The school received regular visits and inspections from various officials. However, Miss Taylor's worries that absenteeism would affect standards seem to have been misplaced as the school received a very creditable Dioscesan report:
Bessie Davies, however, completely failed her Standard IV dictation:

"in Dictation Bessie Davies is particularly bad in this subject, she has an impediment in her speech and spells the words as she pronounces them."
The abolition of the payment of fees for school attendance resulted in a surge of interest. Parents were further relieved of paying for school materials later that month, but it is not explained how this came about.
Miss Taylor's own ill-health, which had begun earlier in the year with influenza, neuralgia and bronchitis, continued to worsen She closed the school in October on the advice of her doctor: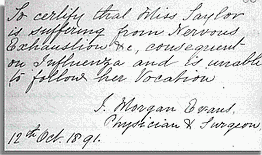 "To certify that Miss Taylor is suffering from nervous exhaustion &tc consequent on influenza and is unable to follow her vocation.
J Morgan Evans
Physician and Surgeon."
In her closing entry she writes: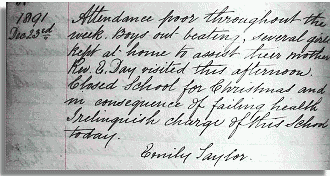 "December 23rd 1891 Attendance poor throughout the week. Boys out beating, several girls kept at home to assist their mothers. Rev E Day visited this afternoon. Closed school for Christmas and in consequence of failing health I relinquish charge of this school today.

Emily Taylor"
It appears from the entries for the beginning of 1892 that it was very difficult to find certificated teachers as it was not until 1893 that a full time replacement for Miss Taylor was found.
---