Education
Getting to School
| | |
| --- | --- |
| Map of Powys showing Cantal, Llanbister | Map of Llanbister |
For many children getting to school was an arduous process. Many lived on outlying farms and had to walk miles to reach their destination. Llanbister Cantal school was in a remote situation.
| | |
| --- | --- |
| Powys County Archives | "July 6th Very heavy rain. Children unable to cross the brook and hill. School not opened until the afternoon and then only 29 present." |
At Abbeycwmhir school, the headmistress returned to school after her illness and found:
| | |
| --- | --- |
| "A slight improvement in the attendance today. At the request of Mrs Phillips I went to The Groes, found the children slowly recovering but too feeble to attempt the journey to school, a distance of 2 ¼ miles." | Powys County Archives |
1891 Census
Groise, Abbeycwmhir
Name
Position in
household
Marital
status
Age
Occupation
Place of Birth
English/Welsh
speaker
James Evans
Head
M
34
Estate labourer
Radnor, Llanbister
English
Elizabeth Evans
Wife
M
28
Radnor, Abbeycwmhir
English
Evan Evans
Son
9
Scholar
Radnor, Abbeycwmhir
English
Edwin Evans
Son
7
Scholar
Radnor, Abbeycwmhir
English
Stephen Evans
Son
5
Scholar
Radnor, Abbeycwmhir
English
George Evans
Son
2
Radnor, Abbeycwmhir
English
Mary E Evans
Dau
1
Radnor, Abbeycwmhir
English
The children of the Morris family who attended Aberedw School had to walk even further to get to school, a distance of some 3 miles.
But occasionally the long journey could be hazardous, as evidenced by the sad case of 6 year old Beatrice Gough who attended Heyope School:
| | |
| --- | --- |
| Powys County Archives | "A terrible accident happened today at the crossing, over the line, to Treluggas. One of the school-children, Beatrice Gough, on returning from dinner, was caught by the express train and killed, being literally cut to pieces." |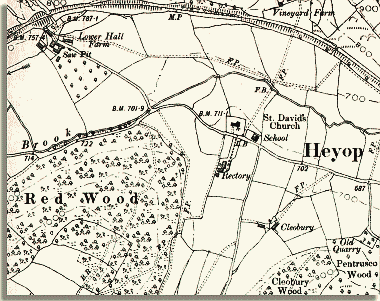 Map of Heyope showing school and railway
Powys County Archives
The children were given time off to attend her funeral.
---