Education
School Boards
School Boards had been established by the 1870 Education Act. The Act divided the counties into districts from which members would then be elected by local ratepayers. Once elected, the Board had the power to set up schools in their district if they felt there was inadequate provision, and these would be paid for out of rates. The Board then ran the schools.
One such Board was that for Llanganten School in Breconshire. The Board consisted of Henry Lloyd (chairman), Rev D Davies, R Williams, A P Morgan, S M Bligh, and R W Edwards. They met every month and some of the meetings were quite short, concentrating on drawing cheques for payment of salaries and other accounts.
At other times they dealt with matters such as school attendances:
Powys County Archives
"Mr Williams Master of Llanganten School, having complained about the irregular attendance of the children it was decided that the absent ones should be looked up and parents written to. Moved by Rev D Davies, Seconded by R Williams"
It sanctioned school repairs and in one particularly eventful meeting on 26th August 1891 it dealt with several matters:

Powys County Archives
"That a bell be ordered for the use of Llanganten School the size to be decided upon by Mr Bligh. Moved by Mr A P Morgan, seconded by Mr Bligh.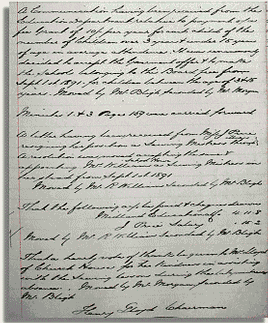 Click on image to see larger version
Powys County Archives
A communication having been received from the Education Department relative to payment of a fee grant of 10/- per year for each child of the number of children over 3 years and under 15 years of age in average attendance. It was unanimously decided to accept the Government offer and to make the schools belonging to the Board free from September 1st 1891 for children between the age of 3 and 15 years. Moved by Mr Bligh seconded by Mr Morgan.
Minutes 1 & 3 pages 159 were carried forward.
A letter having been received from Miss J Price resigning her position as sewing mistress through illness a resolution was moved accepting the same and appointing Mrs Williams, School House, as sewing mistress in her stead from September 1st 1891.
Moved by Mr R Williams seconded by Mr Bligh.
That the following accounts be paid and cheques drawn:
Midland Educational account 4.11.8
J Price Salary 15.2
Moved by Mr R Williams seconded by Mr Bligh
That a hearty vote of thanks be given to Mrs Lloyd of Church House for her kindness in assisting with the sewing lessons during the last mistresses absence. Moved by Mr Morgan seconded by Mr Bligh."
Finally the meeting on September 30th attended to some more pleasant duties: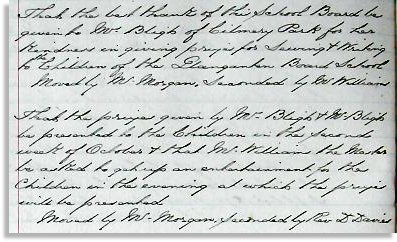 Powys County Archives
"That the best vote of thanks of this School Board be given to Mrs Bligh of Cilmery Park for her kindness in giving prizes for sewing and writing to the children of the Llanganten Board School.
Moved by Mr Morgan seconded by Mr Williams.
That the prizes given by Mr Bligh and Mrs Bligh be presented to the children in the second week of October and that Mr Williams the Master be asked to get up an entertainment for the children in the evening at which the prizes will be presented.
Moved by Mr Morgan seconded by Mr D Davies."
---