Education
Treats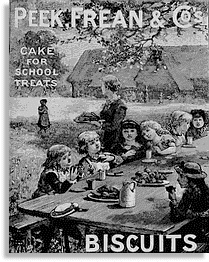 Illustrated London News
Mr Roberts, the headteacher of Llanbister Cantal school, liked to encourage good behaviour and school work by giving treats to the children under his charge. He liked to give extra playtime to children who attended school regularly:


Powys County Archives
"Feb 23rd Monday morn. Scholars who had made 10 attendances last week had 15 minutes extra play this morning."
On October 13th:

Powys County Archives
"Half holiday in the afternoon, thirty-two scholars going to the Tea Meeting at Cwm-y-gaist."
And on December 24th:

Powys County Archives
"Some time was taken to prepare for the Xmas entertainment."
For more school treats click here
---