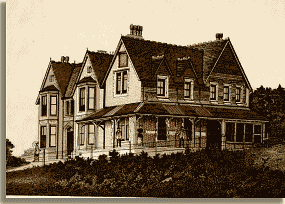 Llandrindod Wells Cottage Hospital in 1881
Powys County Archives
Health Care
Llandrindod Wells Cottage Hospital
Dr William Bowen Davies set up a medical practice in Llandrindod Wells in the 1870s and was the leading light in the campaign to set up a cottage hospital in the rapidly expanding town. Cottage hospitals were simple hospitals for the poor and run on a largely voluntary basis with a minimum of staff. A site was gifted by the local landowner Mr E Middleton Evans, and Dr Davies worked closely with Mr Middleton Evans' wife. She had considerable enthusiasm for the project and worked tirelessly to raise necessary funds.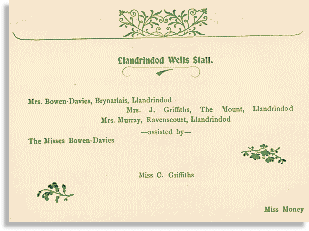 Page from fundraising brochure
Llandrindod Wells Hospital Archives
The hospital was opened in 1881 under the title Llandrindod Wells Cottage Hospital and Convalescent Home and was intended for those suffering from disease or injury, although no infectious cases were admitted. A separate isolation hospital was opened for that purpose.
Patients admitted had to be recommended by the Governors of the hospital trust and to make a contribution of 5/- per week towards their care. This clearly proved too expensive for some of the patients; a new rate of 2/6 per week was imposed for residents of Brecon and Radnor.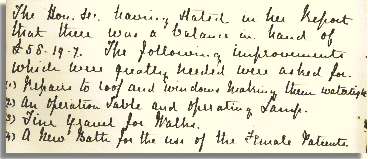 Hospital Minutes, 1892
Llandrindod Wells Hospital Archives
The accounts of the hospital showed that at the end of 1891 there was a healthy credit of £58.19.7d.
The hospital minutes also record a bonus payable to the Matron, Elizabeth Jeffrey, and a contribution towards her uniform.


Hospital Minutes, 1892
Llandrindod Wells Hospital Archives

"It was resolved that the Bonus of £10 should be again given to the Matron in recognition of her valuable services. And a further sum of £3 towards the cost of uniform.
Amy de Winton
Hon. Sec."
For more information on the hospital and its patients, please go to the next page.
---