Health Care
Patent Remedies: Asthma, Consumption, 'Affections of the Throat'
Consumption - tuberculosis - and lung ailments were obviously a concern, to judge by the advertisements: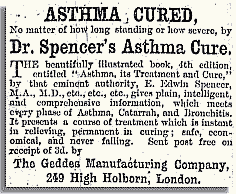 ASTHMA CURED,
No matter of low long standing or how severe, by
Dr. Spencer's Asthma Cure.
The beautifully illustrated book, 4th edition, entitled "Asthma, its Treatment and Cure," by that eminent authority, E. Edwin Spencer, M.A., M.D., etc., etc., etc., gives plain, intelligent, and comprehensive information, which meets every phase of Asthma, Catarrah, and Bronchitis. It presents a course of treatment which is instant in relieving, permanent in curing; safe, economical, and never failing. Sent post free on receipt of 3d. by

The Geddes Manufacturing Company,
249 High Holborn, London.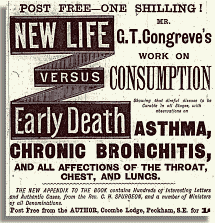 POST FREE - ONE SHILLING!
NEW LIFE

VERSUS

Early Death
Mr.G. T. Congreve's
Work on
CONSUMPTION
Showing that direful disease to be
Curable In all Stages, with
observations on
ASTHMA,
CHRONIC BRONCHITIS,
AND ALL AFFECTIONS OF THE THROAT,
CHEST, AND LUNGS.
THE NEW APPENDIX TO THE BOOK contains Hundreds of interesting Letters and Authentic Cases, from the Rev. C. H. SPURGEON, and a number of Ministers of all Denominations.
Post Free from the AUTHOR, Coombe Lodge, Peckham, S.E. for 1s.
This came from Evans' Guide to Llandrindod Wells.
Celebrated American Remedy for
CONSUMPTION.




Do not trifle
with your life!
Have you Weak Lungs?
Use
Guenther's Lung Healer.
Do you Spit Blood?
Guenther's Lung Healer
stops that.
Have you a Cough?
Use
Guenther's Lung Healer.

- - -
Price --
Large Bottle,
4/6
Small Bottle,
2/9
- - -

Each Bottle bears the
Government Stamp of
United States and of
the English Government,



Use GUENTHER'S
LUNG HEALER
- - -
All we ask is a trial of this
Remedy, after which the
Medicine speaks for itself.
CONSUMPTION
CURED
AT LAST.
- - - -
History of
Guenther's Lung Healer.

This was first used in Millow, Germany, by DR. AUGUSTUS GUENTHER, in his private practice, and with such success that on his death he left the secret as a legacy to his brother, ANDREAS GUENTHER, who in turn gave the same to his son, WM. GUENTHER, (one of the present proprietors,) on condition that the same should not be used, except as charity, until after his death, which occurred in 1874. Since that time WM. GUENTHER has been giving the world the benefit of his truly wonderful secret for the cure of

Consumption!
Spitting of Blood, Bronchitis, Asthma, Coughs, Colds, Cattarh of the Chest and all Diseases of the Pulmonary Organs. SURE CURE FOR DYSPEPSIA.




---

Ask your Chemist for it, or send to the WHOLESALE IMPORTERS -- LONDON: -- NEWBERY & SONS, 1, King Edward St., Newgate St.
LIVERPOOL: -- EVANS & SONS, 56, Hanover Street.


Click on image to see larger version.
Powys County Archives
---