Health Care
Patent Remedies: Nervous disorders & derangements
Newspapers also had advertisements for various cure-alls: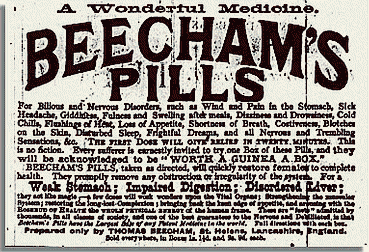 A Wonderful Medicine.
BEECHAM'S PILLS
For Bilious and Nervous Disorders, such as Wind and Pain in the Stomach, Sick Headache, Giddiness, Fulness and Swelling after meals, Dizziness and Drowsiness, Cold Chills, Flushings of Heat, Loss of Appetite, Shortness of Breath, Costiveness, Blotches on the Skin, Disturbed Sleep, Frightful Dreams, and all Nervous and Trembling Sensations, &c. THE FIRST DOSE WILL GIVE RELIEF IN TWENTY MINUTES. This is no fiction. Every sufferer is earnestly invited to try one Box of these Pills, and they will be acknowledge to be "WORTH A GUINEA A BOX."
BEECHAM'S PILLS, taken as directed, will quickly restore females to complete health. They promptly remove any obstruction or irregularity of the system. For a Weak Stomach; Impaired Digestion; Disordered Liver; they act like magic; - a few doses will work wonders upon the Vital Organs; Strengthening the muscular System; restoring the long-lost-Complexion; bringing back the keen edge of appetite, and arousing with the ROSEBUD OF HEALTH THE WHOLE PHYSICAL ENERGY of the human frame. These are "facts" admitted by thousands, in all classes of society, and one of the best guarantees to the Nervous and Debilitated, is that Beecham's Pills have the Largest Base of any Patent Medicine in the world. Full directions with each box.
Prepared only by THOMAS BEECHAM, St Helens, Lancashire, England.
Sold everywhere, in Boxes 1s. 1 ½ d and 2s. 5d. each.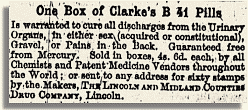 One Box of Clarke's B41 Pills
Is warranted to cure all discharges from the Urinary Organs, in either sex (acquired or constitutional), Gravel, or Pains in the Back. Guaranteed free from Mercury. Sold in boxes, 4s. 6d. each, by all Chemists and Patent Medicine Vendors throughout the World; or sent to any address for sixty stamps by the Makers, THE LINCOLN AND MIDLAND COUNTIES DRUG COMPANY, Lincoln.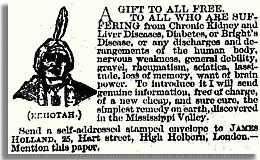 A GIFT TO ALL FREE.
TO ALL WHO ARE SUFFERING from Chronic Kidney and Liver Diseases, Diabetes, or Bright's Disease, or any discharges and derangements of the human body, nervous weakness, general debility, gravel, rheumatism, sciatica, lassitude, loss of memory, want of brain power. To introduce it I will send genuine information, free of charge, of a new cheap, and sure cure, the simplest remedy on earth, discovered in the Mississippi Valley.
Send a self-addressed stamped envelope to JAMES HOLLAND, 25, Hart street, High Holborn, London. - Mention this paper.
---