Health Care
Robert Morris of Aberedw
One of the patients in the Cottage Hospital at the time of the census in 1891 was a 4 year old boy called Robert Morris who lived in Aberedw, Radnorshire. His family is shown in the census as follows:
1891 Census
Upper Blaen-Meilwen
Name
Position in
household
Marital
status
Age
Occupation
Place of Birth
English/Welsh
speaker

Edmund Morris

Head

M

33

Shepherd

Aberedw, Radnorshire

English

Mary Ann Morris

Wife

M

39

? Radnorshire

English

Elizabeth A Morris

Dau

9

Scholar

Aberedw, Radnorshire

English

Edmund Morris

Son

5

Scholar

-do-

English

Maud E Morris

Dau

1

-do-

English
Robert had been baptised at the Parish Church in the village on 28th July 1887, his father at the time describing himself as a 'farmer' and living at Pen y gareg.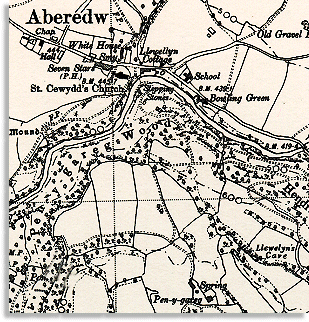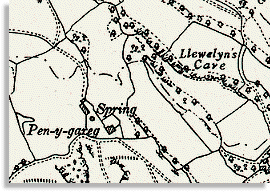 The map on the left shows Pen y gareg some distance from the the village of Aberedw. It is situated in the lower right hand corner of the map near to Llewelyn's cave.
However, by the time of his sister Maud's baptism on February 5th 1890 the family had moved to Blaen-Meilwen, Aberedw and the father's occupation was given as 'labourer' - and in the census as 'shepherd'.
The family lived about 3 miles away from the village, as shown in the school log book for that year: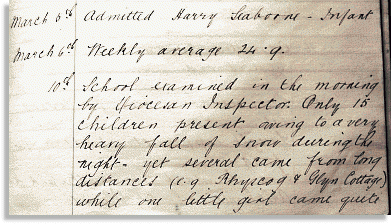 Powys County Archives


March 5th. Admitted Harry Seaborne, infant.

March 6th. Weekly average 24.9.

10th. School examined in the morning by Diocesan inspector. Only 15 children present owing to a very heavy fall of snow during the night - yet several came from long distances (e.g. Rhyscog and Glyn Cottage) while one little girl came quite three miles - viz. Upper Blainmeilon. We were glad to see this perseverance - and sincerely trust no illness will result from it. Holiday in the afternoon.

His sister Maud had been privately baptised, a practice normally reserved for babies who were not expected to survive. However, there is no record of her burial in the parish burial register and according to the census she survived beyond her first birthday.
After suffering a burn, Robert was admitted to the Cottage Hospital in Llandrindod on the recommendation of Col. Picton Turberville. He spent a total of 42 days in hospital and was discharged in good health.
---