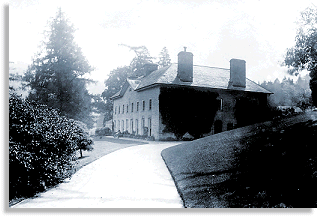 Home Life
The Lewis Lloyd family
The Lewis Lloyd Family were substantial property owners around Britain, and amongst their property in Powys was Nantgwllt which stood in the Elan Valley.
Earlier in the nineteenth century, the poet Shelley had stayed in the property. He negotiated to buy it but was not successful. Nantgwyllt was eventually flooded when the Elan Valley reservoirs were built. More can be found about this on the Powys Digital History Project pages.
Little has been written about the Lewis Lloyd family themselves. However they were in residence at Nantgwllt at the time of the 1891 census.
1891 Census
Nantgwllt House, Llansantffriad Cwmdeuddwr
Name
Position in
household
Marital
status
Age
Occupation
Place of Birth
English/Welsh
speaker
Robert Lewis Lloyd
Head
M
55
Barrister
Cardinganshire Llanigonmore
English
Mary Anne Jane Lewis Lloyd
Wife
M
55
Cardigan ?
English
Robert Wharton Lewis Lloyd
Son
S
25
Articled clerk to solicitor
Cardigan Aberystwyth
English
James Edward Lewis Lloyd
Son
S
20
Radnor Cwmdauddwr
English
Louisa Beatrice Lewis Lloyd
Dau
S
23
Radnor Cwmdauddwr
English
Mary Anne Jane Lewis Lloyd
Dau
S
19
Breconshire Brecon
English
Cecilia Joan Lewis Lloyd
Dau
S
18
Breconshire Brecon
English
Gertrude M Constance Lewis Lloyd
Dau
S
12
Gloucester Cheltenham
English
Charles H D Morland Lloyd
Visitor
S
25
Surgeon
Berkshire Abingdon
English
Edith Howlett Wilkinson
Visitor
S
20
Natal British Subject
English
Annie Howlett Wilkinson
Visitor
S
19
? British Subject
English
Evan Roderick
Servant
S
31
Butler
Carmarthenshire Tally
Both
Eliza Anne Lloyd
Servant
S
32
Ladies maid
Norfolk Baildon
English
Laura Elinor Mitchell
Servant
S
26
House maid
Gloucester
English
Alice Leighton
Servant
S
21
House maid
Gloucester Pauntley
English
Jessie Tomkins
Servant
S
21
Laundry maid
Hereford Kington
English
Annie Davies
Servant
S
19
Kitchen maid
Carmarthen Cenarth
Both
Thomas Richard Mills
Servant
S
17
Footman
Radnor Nantmel
English
Alicia Hayes
Servant
Wid
45
Cook
Ireland Dublin
English
Among the diverse papers of the Lewis Lloyd Collection, there were various handwritten notebooks containing recipes, home remedies, household hints, physic for dogs, and knitting and crochet patterns.
---