Home Life
Pryce Jones Catalogue: Women's Clothes, page 1
Underwear




The corsets on this page are:
(top row) "Victory" with a spoon busk; Izod's "Nursing" Corsets, four styles; "Prestina" with "entire elastic font. Invaluable for Ladies enceinte";
(2nd row) "Park" Riding Corset, 3 styles; "Khartonia G", 3 styles;
(centre) "Quillbone", "positively unbreakable", 3 styles;
(bottom row) "Favourite", 2 styles; and "Orleans", 2 styles.

The descriptions on these corsets contain such recommendations as, "suitable for stout figures", "suitable for medium figures", "superior quality for young girls", and "suitable for slight figures". The "Oriental" (first corset on 2nd row) is described as "White Net and Italian, suitable for hot climates".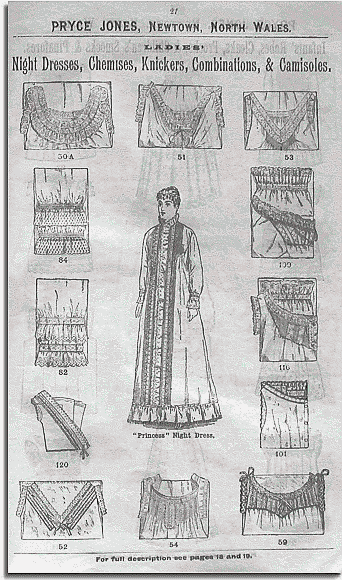 Ladies' Night Dresses, Chemises, Knickers,
Combinations, and Camisoles
Reality Group plc, Newtown, Powys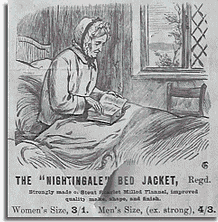 The Nightingale Bed Jacket, from
Pryce Jones' Christmas 1892 leaflet
Reality Group plc, Newtown, Powys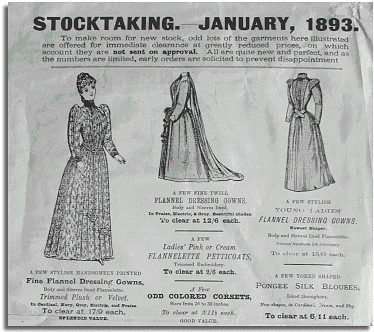 Stocktaking. - January 1893
Reality Group plc, Newtown, Powys



"To make room for new stock, odd lots of the garments here illustrated are offered for immediate clearance at greatly reduced prices, on which account they are not sent on approval. All are quite new and perfect, and as the numbers are limited, early orders are solicited to prevent disappointment"


Continue to page two - Teagowns, Leisurewear & Outerwear
---