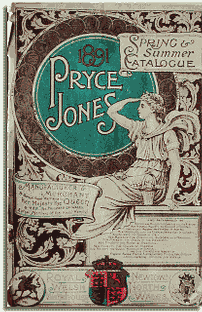 Pryce Jones Spring &
Summer Catalogue, 1891
Reality Group plc, Newtown, Powys
Home Life
The Pryce Jones Catalogue
The Royal Welsh Warehouse Company produced its first mail order catalogues in 1890 after a printing press was installed in its Newtown premises.
The Spring and Summer catalogue from 1891 gives a fascinating insight into the everyday clothing of the time, as well as some more specialist clothing produced by the company. As it is a summer catalogue, there are many items of leisure and sporting wear available. As with many modern mail order catalogues, the emphasis is very much on women's clothing.
There was also a home furnishing catalogue: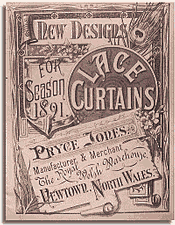 New Designs - Lace Curtains -
for Season 1891
Reality Group plc, Newtown, Powys




Items from the catalogue can be seen by following the links below.
---