Law and Order
Montgomery Petty Sessions: Juvenile Case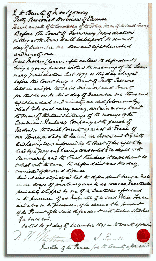 Click on image for
enlarged version
Powys County Archives
On December 3rd 1891 Evan Morris and Albert Davies aged 13 and 12 respectively were on the platform of Forden Railway Station. Albert asked Evan to help him up to the window of the booking office, which he then climbed through. He helped himself to 13 shillings from the cash box. The boys then divided the money between them and left.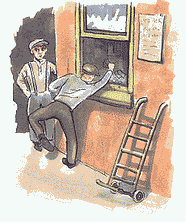 John Woosnam, the station master, lived with his family at the station house.
1891 Census
Forden Station

Name

Position in
household

Marital
status

Age

Occupation

Place of birth

English/Welsh
speaker

John Woosnam
Head
M
34
Railway Station Master
Montgomeryshire - Llandinam
English
Annie Woosnam
Wife
M
37
Mont - Llanidloes
English
John Woosnam
Son
S
10
Scholar
Llandinam
English
David Woosnam
Son
S
8
Scholar
Llandinam
English
Annie Woosnam
Daughter
S
5
Scholar
Llandinam
English
John A Woosnam
Son
S
4
Scholar
Glamorganshire Ystead
English
For more information on the census, please click here.
John had seen them loitering on the platform, clearly suspicious. He went into the booking office and found that the window had been opened from the outside. He then discovered the missing money. Enlisting the help of a neighbour, they managed to overtake the boys by the river. They both confessed to the theft, although only half of the money was recovered as Albert has thrown his share over a hedge into a field.
Summary jurisdiction was swift in the Petty Sessions. The boys were sentenced:


Powys County Archives
"And it was adjudged that the defendant being a male under the age of fourteen years be as soon as practicable privately whipped by one of the Constables aforesaid in the presence of an Inspector of the said Police Force and also in the presence, if he desires the presence of the parent of the said defendant with twelve strokes of the Birch rod".


Powys County Archives
This was signed by the Justice of the Peace for the County of Montgomeryshire.
The next case involves the theft of a flannel vest from the laundress' hedge: Regina v Bridgett
---