Law & Order
Carlill v Carbolic Smoke Ball Co.
One of the most significant cases in English law arose in 1891, the case which established an important precedent in contract law: Carlill v Carbolic Smoke Ball Co.
1891 saw an epidemic of influenza which affected all parts of the British Isles. The Carbolic Smoke Ball Company offered:
"£100 reward will be paid by the Carbolic Smoke Ball Co to any person who contracts the increasing epidemic influenza, colds, or any diseases caused by taking cold, after having used the ball daily for two weeks according to the printed directions supplied with each ball. £1000 is deposited with the Alliance Bank, Regent Street, showing our sincerity in the matter. During the last epidemic of influenza many thousand Carbolic Smoke Balls were sold as preventives against this disease, and in no ascertained case was the disease contracted by those using the Carbolic Smoke Ball."
In an attempt to avoid catching the illness, Ms Carlill bought a Carbolic Smoke Ball as advertised in the Pall Mall Gazette, used it according to instructions and promptly caught influenza. It resulted in long court proceedings before she got her reward and her actions resulted in substantial changes as to what constituted the terms of a contract. Advertisements would never be the same again!
This advertisement for Carbolic Smoke Balls taken from the London Illustrated News of 1891 does not offer any such reward: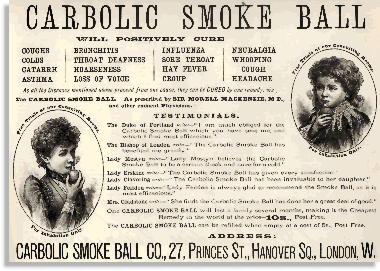 Advertisement for the Carbolic Smoke Ball Company
from the London Illustrated News
Powys County Libraries
---