Law and Order
Police Constable 14 William Morris Vaughan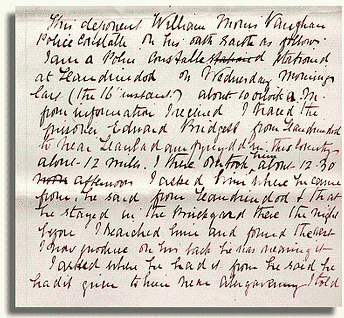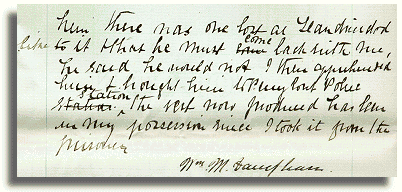 Statement of PC Vaughan
Powys County Archives
"This deponent William Morris Vaughan Police Constable on his oath saith as follows:
"I am a Police Constable stationed at Llandrindod. On Wednesday Morning last (the 16th instant) about 10 o'clock AM from information I received I traced the prisoner Edward Bridgett from Llandrindod to near Llanbadarn fynydd in this County about 12 miles I there overtook him about 12.30 afternoon I asked him where he came from. He said from Llandrindod and that he stayed in the Brickyard there the night before. I searched him and found the vest I now produce on his back. He was wearing it. I asked him where he had it from. He said he had it given to him near Abergavenny. I told him there was one lost at Llandrindod like to it and that he must come back with me. He said he would not. I then apprehended him and brought him to Penybont Police Station. The vest now produced has been in my possession since I took it from the prisoner."

(Signed) Wm M Vaughan"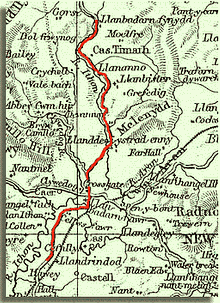 Route from Llandrindod to Llanbadarn
Colour added for clarity
Powys County Archives
Although it is not possible to determine how Vaughan travelled to Llanbadarn, it seems unlikely he travelled on foot. An average walker travels at 3 mph, a speedy one at 4 mph; in 2 ½ hours only about 10 miles would be covered. The Radnorshire force did have two bicycles, but it is not known if PC Vaughan was able to avail himself of one.
PC Vaughan had a long career of nearly 25 years in the Radnorshire police, from 1881-1905.
---