Social Conditions
The Board of Guardians
The Board of Guardians was a group of local ratepayers who administered the workhouse, dealing with financial affairs, staff, pursuing maintenance payments, the boarding out of children, payments to paupers, and their transfer to and from different Poor Law Unions. Most of the Board members were elected, although some were ex-officio.
The Board met every fortnight anddealt first with the fortnightly accounts of the Union. As well as making payments, it also received payments from the various relieving officerswho collected the Poor Rate for their area, and made payments to needy persons.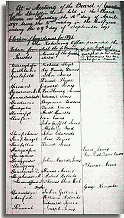 Powys County Archives
The Victorian Workhouse system was established largely by the Poor Law Amendment Act of 1834 which sought to set up one system of poor relief for the whole of Britain. It enabled parishes to form a Union with which to deal with paupers who lived in their area, and to set up workhouses for the accommodation of those who were unable to support themselves. These were administered by a Board of Guardians who were elected from local ratepayers. For more information on Poor Law, visit http://www.poor-law.eu.org/.
Llanfyllin Union had 28 Guardians for 1891, one from each of the parishes represented by the Union and 2 each from Llanfair Caereinion and Meifod, and 3 from Llanfair.
As can be seen from these minutes, Mr Evan Evans of the parish of Llanfair was elected chairman. Evan Evans is a common name but there are 2 possible candidates for the Llanfyllin guardian living in Llanfair at the time. The most likely is a retired farmer who may have had a little more time on his hands for such regular duties:
1891 Census
Garthhiling, Llanfair
Name
Position in
household
Marital status
Age
Occupation
Place of Birth
English/Welsh
speaker
Evan Evans
Head
M
70
Retired farmer
Montgomery, North Wales
Welsh
Jane Evans
Wife
M
69
Montgomery, North Wales
English
Gwilim Maurice Evans
Son
S
34
Farmer
Montgomery, North Wales
English
Jane Evans
Dau
S
30
Montgomery, North Wales
English
Very little could be accomplished in the Workhouse or the Union in general without the ratification of the Board, and many very trivial matters were dealt with by committee in this way throughout the year. Much of the Board's concern was that the Union would not have to meet the cost of maintaining people who were not considered to be local, and paupers could be sent back to their place of origin to seek admission into the workhouse serving that area.