Social Conditions
Other Workhouse Employees
As well as staff living at the Llanfyllin workhouse, the Union employed various other people.
Medical officers were very important, both to attend inmates and paupers living in the community. Various medical officers were retained by the Union, the most important of whom seems to have been Dr Gill of the Guilsfield District who was employed by both Llanfyllin and Forden Unions, with assistance from his deputy, Dr Marston. Dr Gill was called to the Board of Guardians at Forden Union to account for the death of a new inmate, Thomas Davies of Welshpool shortly after admission. This case is dealt with in more detail on a separate page. As well as attending to the sick, the medical officers administered vaccinations in the district.
Llanfyllin workhouse had an outbreak of influenza in June and it became necessary to convert the tailor's room into a fever ward: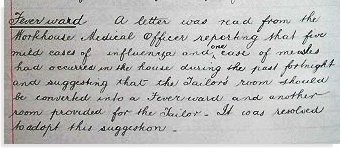 Powys County Archives
"Fever Ward A letter was read from the Workhouse Medical Officer reporting that five mild cases of influenza and one of measles had occurred in the house during the past fortnight and suggesting that the Tailor's room should be converted into a fever ward and another room provided for the Tailor. It was resolved to adopt this suggestion."
The tailor, John Roberts, registered a complaint about his working conditions on 12 November:

Powys County Archives
"Tailor's room The tailor's application for another room, the present room being too cold to work in, was referred to the Visiting Committee"
He lived locally with his wife:
1891 Census
62 Market Street, Llanfyllin
Name
Position in
household
Marital status
Age
Occupation
Place of Birth
English/Welsh
speaker
John Roberts
Head
M
57
Tailor
Denbigh Llanrhaiadr
Welsh
Ellen Roberts
Wife
M
65
Carnarvon Llandderlan
Welsh
Additionally, a barber, a gardener, and a washerwoman were employed. Jane Dyas, the washerwoman, did not record her occupation on the census, as was often the case at the time.
1891 Census
35 Weanllys Cottage, Llanfyllin
Name
Position in
household
Marital
status
Age
Occupation
Place of Birth
English/Welsh
speaker
John Dyas
Head
M
48
Farm labourer
Shropshire
English and Welsh
Jane Dyas
Wife
M
43
Montgomery Meifod
English and Welsh
David Dyas
Son
S
12
Montgomery Meifod
English and Welsh
Evan Dyas
Son
S
12
Montgomery Meifod
English and Welsh
Louisa Dyas
Grandaughter
S
5
Montgomery Llanfyllin
English and Welsh