Transport
The Railway Station in Brecon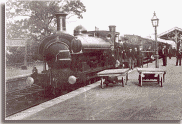 Brecon Station
Brecknock Museum & Art Gallery
From three railway stations in the 1860s (one for each of the three companies operating there at the time), there was only one station in 1891 - Free Street, which opened in 1871. It also contained administrative offices for the railways companies.
In charge of the passenger operations at the station was the station master, Evan Jones. He lived at the station house with his family and a servant. It must have been an exciting place for his young sons to grow up.
1891 Census
Brecon Railway Station
Name
Position in
household
Marital
status
Age
Occupation
Place of Birth
English/Welsh
speaker
Evan Jones
Head
M
31
Railway Station Master
Brecon Llanfrynach
Both
Mary Jane Jones
Wife
M
31
Brecon Llanfrynach
Both
Bertram Jones
Son
7
Scholar
Brecon Talyllyn
Both
Percival Jones
Son
6
Scholar
Brecon Talyllyn
Both
Evan Edgar Jones
Son
4
Scholar
Brecon Talyllyn
Both
Harold Jones
Son
1
Scholar
Brecon Brecon
Both
Margaret Jane Harris
Serv
S
23
General Servant Domestic
Glamorgan Rhymney
Both
The woman who ran the refreshment room at the station lived next door.
The railway also employed porters:
1891 Census
23 Charles Street, Brecon
Name
Position in
household
Marital
status
Age
Occupation
Place of Birth
English/Welsh
speaker
Annie Davies
Head
Wid
56
Breconshire Merthyr Cynog
Both
William Davies
Son
S
21
Railway Porter
Breconshire Llanthew
Both
William Powles
Lodger
S
26
Locomotive Stoker
Breconshire Brecon
Both
---