Transport
Buses
As well as the many school buses operating in Powys, many people still use and often rely on bus services for transport in 2002.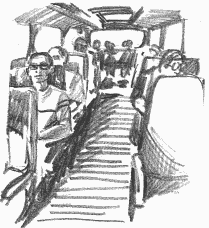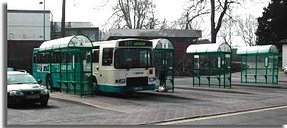 A Powys Bus Station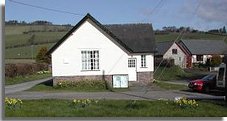 Kinnerton Village Hall
For one village resident, the lack of buses creates great difficulties.
Only once a week do we get a bus in our village of Cwmdu, arriving from Builth Wells it arrives around ¼ to ¼ past ten going to Abergavenny which is ten miles from here, calling on the way around the small villages of Llanbedr and Llangenny, arriving at Abergavenny about 10.30. Starts back at 1.45 leaving us just a couple of hours to get to Bank, Post Office and shopping. Our nearest shop from Cwmdu is 4 ½ miles away at Crickhowell but we get no bus there at all. That was finished about 3 years ago. Now, if I have to get to surgery and health centre to visit Doctor I've either got to cadge a lift or pay £5.25 one way for a taxi. I can remember three buses travelling to Crickhowell on a Thursday in the 40s, 50s and 60s. What a difference. We had a grocer calling, butcher and baker twice a week. Our shop and Post Office in Cwmdu has all gone now. We still have our village school with 50+ pupils. What a difference in this modern age. I have to carry all my shopping now.
More on the decline in rural services can be seen here.
Sometimes long distance coach or bus services are used.
This morning my Uncle George died. Organised bus travel to North of Scotland to go to funeral next week . . . Bus return fare will cost £61.50.
Private bus or coach hire can be for recreational uses as well.
The National trust has arranged for a trip to Shugborough (the seat of the Earls of Lichfield) for volunteers and staff. I am a volunteer. We get up at 7am to get ready to go to Powis Castle for the coach . . . the coach left at 9 with some 35 people and we arrived at Shugborough at about 10.40.

---