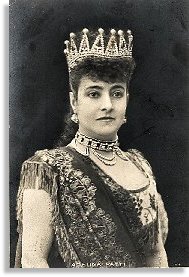 Adelina Patti
Brecknock Museum and Art Gallery
Culture and Entertainment
Adelina Patti and Craig-y-Nos Castle
Adelina Patti was a world renowned opera singer, born in Spain in 1843 to Italian, opera singing parents. She spent many years living in America and first performed in front of an audience at the age of 7. Her voice was remarkable for its incredible purity, for which Verdi declared her the greatest singer he had heard.
She was a beautiful woman with a tempestuous artistic temperament, and was adored and acclaimed throughout Europe. She was already a singer of considerable acclaim by the time she chose to take up residence in the Upper Swansea Valley in Breconshire, performing regularly for royalty from all over Europe and commanding large fees for every performance.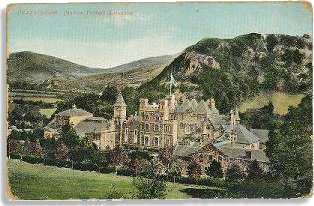 "Craig-y-Nos. (Madame Pattie's Residence.)"
Brecknock Museum and Art Gallery


Her first marriage to the Marquis of Caux had not been a success; in 1878, she bought Craig-y-Nos Castle in Breconshire to live in with her lover, Ernest Nicolini, another opera singer who had partnered her in many duets and who enjoyed the country life. She lived at Craig-y-Nos with Nicolini until his death in 1898, having married him in Ystradgynlais in 1886 following her divorce.
She immersed herself in local community life after her marriage to Nicolini and was a generous benefactor, giving charity concerts even after she had largely retired. She particularly favoured the towns of Brecon, Swansea and Neath, and had sung in Welsh at the Eisteddfod in Brecon in 1889.
She undertook many building projects at the Castle over the years and in 1891 she opened a theatre. Many musical productions were held there over the following years until Nicolini's death. She remarried in 1899, her new husband being the rather austere Baron Cederstrom. Adelina performed and entertained less and less after this and spent more time at home at Craig-y-Nos with her husband and her devoted household staff.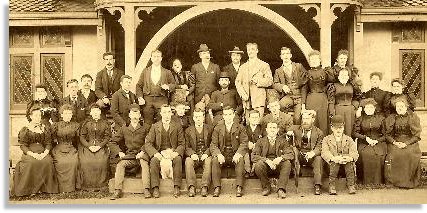 The Staff, Craig-y-Nos
Patrocini is framed in the arch (second from left) with
Adami (in the pale suit) and other members of staff
Brecknock Museum and Art Gallery
She died in 1919 at home in Breconshire at the age of 76 and was buried in Paris in the Cemetery of Pere la Chaise.
There is more information on the life of Adelina Patti and Craig-y-Nos Castle in Len Ley's pages for the Powys Digital History project.
---