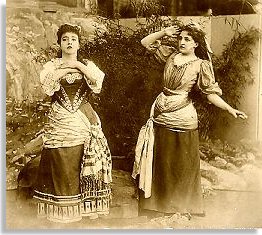 Mme Patti in an unknown role
(possibly Rosina in
Il Barbiere di Siviglia
?)
Brecknock Museum and Art Gallery
Culture and Entertainment
The theatre at Craig-y-Nos
Madam Patti decided to erect a theatre in her Castle at Craig-y-Nos in which she could give private performances. It was designed by Swansea architects Bucknall and Jennings with input from Henry Irving, and was based on Wagner's opera house at Bayreuth. The grand opening, held on 12th July 1891, was attended by many dignitaries and stars of the opera world and it was said that 450 bottles of champagne were consumed at the party.
The theatre could seat 150 people. There was also a mechanical floor which raised the auditorium to stage level to allow it to be used as a ballroom. At 40 feet long, 26 feet wide and 24 feet high the auditorium was decorated in pale blue, cream and gold wall panels. Ten Corinthian columns supported the ceiling and in between these were the names of composers such as Mozart, Verdi and Rossini, all gilded and surmounted by Madam Patti's monogram. A member of her staff, Ethel Rosate-Lunn, remembered that: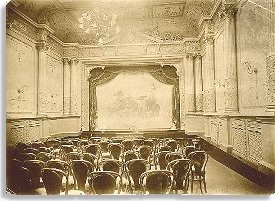 The Theatre, Craig-y-Nos
Brecknock Museum and Art Gallery
"It was a lovely little theatre consisting of ground floor and circle and, of course, dressing rooms. In my time all the seats were upholstered in velvet of a soft blue colour and the walls were decorated in honour of the great composers who had composed the opera's in which she sang."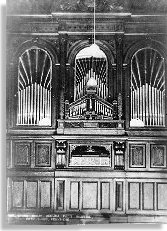 The Organ at Craig-y-Nos

Brecknock Museum and Art Gallery

There was also a magnificent organ which was given to her in the USA after one of her tours there. This was dismantled in the 1920s when the buildings became a hospital.

The back of the theatre housed a gallery where the domestics would sit, enabling them to enjoy the performances but would keep them away from the high society guests. The orchestra pit was separated from the seating area by a balustrade and held up to 24 musicians. The stage area was fronted by blue silk curtains and the most impressive back drop shows an illustration of Madam Patti riding in a chariot, dressed as Semiramide from the opera of the same name by Rossini.

Months in advance of the 12th of August 1891 grand invitations were sent out as there were to be two types of guests, ones which were to be invited to stay and others which were invited just for the performance. The houseguests arrived several days before the grand opening. Among these were the Spanish Ambassador, The Baron and Baroness De Reuter (founder of the news agency), and Sir Henry Hussey Vivian Bart and Lady Vivian. Several journalists from international newspapers such as The Telegraph, Le Figaro and the Boston Herald had also been invited so that they could report on the opening.

August the 12th 1891, the day of the opening, the festivities were non-stop. Madam Patti was the ideal hostess making sure that the guests had everything they needed as well as overseeing the finishing touches to the evening concert. In the early afternoon the orchestra and chorus hired from a Swansea Opera Company had a final rehearsal. By late afternoon a specially chartered train from Swansea arrived in Penwyllt Station with the evening guests, they were conveyed to the Castle for light refreshments and preparation for the evening's entertainment.

The programme was due to start by 8pm but had run behind schedule before it had even started and by the time everyone was seated and the orchestra ready it had reach 8.30. Before the performance a speech of inauguration was made by an actor by the name of William Terriss, who had stood in for an indisposed Henry Irving. He was full of praise for the 'Queen of Song' and rounded off his address by declaring the Patti Theatre open.

The orchestra roused into the prelude to act one of Traviata by Verdi. The chorus entered to loud applause but more was to come as Madam Patti arrived on stage wearing a pink satin gown, trimmed in white and embroidered with roses. Her performance was greeted by a standing ovation. In the second half Madam Patti sang the Garden Scene for Faust, one of her accompanists being her husband Ernest Nicolini. A standing ovation was given by the appreciative audience, with many a hat and hanky being waved.

The audience, singers and players were invited to a buffet supper served in the conservatory.

The theatre was often used for performances which showcased local musical talent; below are some of the programmes from some performances at the Patti theatre.

This first is for a special matinee performance of 'East Lynne' - 'a play without words, founded upon Mrs Henry Wood's novel'. Mme Patti appears at the bottom of the cast list. The programme states 'The lullaby sung by Madame Patti in the last scene has been expressly composed for and dedicated to her by M. Andre Pollonnais; the words by Mr Hermann Klein.'