Culture and Entertainment
The Staff of Craig-y-Nos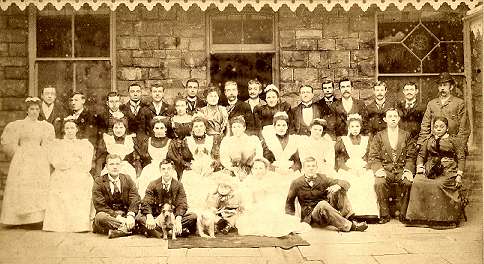 The Staff of Craig-y-Nos.
The chef
Adami
is framed in the doorway, on the right.
Patrocini
sits at the extreme right
Brecknock Museum and Art Gallery
During her years married to Ernest Nicolini, Adelina Patti hosted many parties and performances at the Castle and needed a large staff for her lavish lifestyle. At one stage there were seventy, which brought a considerable amount of work and prosperity into the local community. She was a very loyal and generous employer and seems to have been adored by them She cared for her staff even after they were no longer employed by her, allowing them to live in the castle if they had nowhere else to go.
Ethel Rosate-Lunn, who went to work for Madam Patti in the early twentieth century, recalls that the staff ". . . lived together like a happy family." She also recalled how Madame would:
". . . often invite the staff to dress in any fancy dress available and assemble after dinner in the billiard room. Madame, too, would often dress in fancy dress; generally it was a dress that she had worn in opera, and for a while she would enjoy herself with us. Then she would turn to Daniel Longo, the butler, and say 'Pop the corks Longo', this being the signal for the drinks, and we would all, Madame included, drink a glass of champagne or port. I well remember a night when she entertained us by dancing and playing the castanets. What a delightful figure she made as she danced and played in Spanish costume."
Christmas was also a happy time for the staff at Craig-y-Nos. However, the revelries were few and far between during Madame's final marriage to Baron Cederstrom and only occurred when he was away. It would seem that the Baron was mindful of the need for the household to be rather more careful with money than was Madame's custom.
Madame was not at home when the 1891 census was taken but her household consisted of the following people, drawn from far and wide:
1891 Census
Craig-y-Nos Castle, Ystradgynlais Higher
Name
Position in
household
Marital
status
Age
Occupation
Place of Birth
English/Welsh
speaker
Signor Nicolini
Head
M
66
Living on his means
Tours France
French, English, Italian, Spanish
A Nicholas
Visitor
M
68
Living on his means
Tours France
French, English
Wilh Heck
Serv
S
40
Steward
Malmedy Germany
German, ?, English
Nicolas Diels
Serv
S
30
Cook
Meune France
French, Spanish
N G Norris
Serv
M
50
Butler
Hampshire
English
Ellen Hartley
Serv
S
30
Cook
Lancashire Liverpool
English
Mary Griffiths
Serv
S
32
Housemaid
Breconshire Ystradgynlais
English
Ann Morgan
Serv
S
27
Housemaid
Breconshire Ystradgynlais
English
Margaret Williams
Serv
S
22
Housemaid
Cardiganshire
English
Rachel Potter
Serv
S
21
Housemaid
Breconshire Ystradgynlais
English
Caroline Potter
Serv
S
16
Housemaid
Breconshire Ystradgynlais
English
Constantine Hibbert
Serv
S
27
Head Gardener
Derbyshire Burslow
English
William Hinton
Serv
S
28
Gardener
Bucks Claydon
English
Thomas F Jones
Serv
S
23
Gardener
Shropshire
English
David Giddings
Serv
S
21
Gardener
London Highgate
English
David Edwards
Serv
S
21
Gardener
Breconshire Devynock
Both
William Wright
Serv
S
21
Labourer
Gloucestershire
English
Harry Bedice
Serv
S
27
Gardener
Shropshire Lydbury
English
Thomas Bevan
Serv
M
48
Coachman
Pembrokeshire
English
George Marsh
Serv
S
20
Groom
Somerset Church Hill
English
Timothy O'Donovan
Serv
M
50
Game Keeper
Ireland Cork
Both
William May
Serv
M
55
Coachman
Glamorganshire Neath
English
There was also a gamekeeper living in the Lodge:
Keeper's Lodge
Name
Position in
household
Marital
status
Age
Occupation
Place of Birth
English/Welsh
speaker
Francis A White
Head
M
30
Gamekeeper
Glamorgan Cowbridge
English
Emma White
Wife
M
25
Glamorgan
English
The Head Gardener Constantine Hibbert was in Madame Patti's employ for many years and was still with her when she died in 1919. She often used to visit his cottage on her daily walks as she adored his five children, especially his eldest son Hector. Ethel Rosate-Lunn recalled:
". . . Con Hibbert was talking to [Madame] and mentioned that he had rheumatism in his hand. She said to him 'Con, I have seen a ring advertised that is supposed to be good for rheumatism in the hand; I will get you one.' She did so, and she would often ask him if the ring gave him relief and he would say 'Yes Milady.' But as he often said to me there was more diplomacy than truth in what he said."
Two other members of staff not mentioned on this census were held in particular esteem. One was the chef who joined her a little later Adamo Adami, and another was Lorenza Couroneu de Patrocini.
---