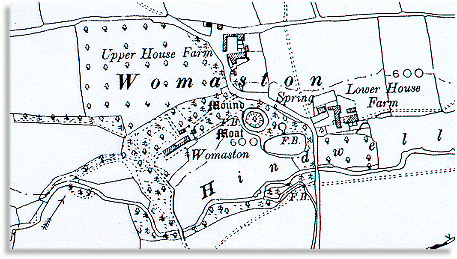 Map of Womaston, nr Presteigne
Powys County Archives
Work
Farmer John W Stephens
John Stephens was born in 1863 to parents John and Mary. In 1881 his father described himself as a farmer of 86 acres employing two labourers, and the family kept two female domestic servants. By 1891 he had been widowed and ran the farm with his son, housekeeper Evangeline Jones, and two farm labourers who lived with the family.
1891 Census
Farm House, Womaston
Name
Position in
household
Marital
status
Age
Occupation
Place of Birth
John Stephens
Head
Wid
62
Farmer
Montgomery Llandyssil
John W Stephens
Son
S
28
Farmer
Radnor Old Radnor
Evangeline Jones
S
29
Housekeeper
Hereford Huntington
Hy J Hollies
S
17
Farmer's assistant
??
John Lucas
Serv
S
18
Farm servant
Radnor Presteigne
John W Stephens took over the farm in the 1890s and kept a detailed pocket book covering the years 1895-1905. The book detailed the expenses, successes and failures on the farm during those years.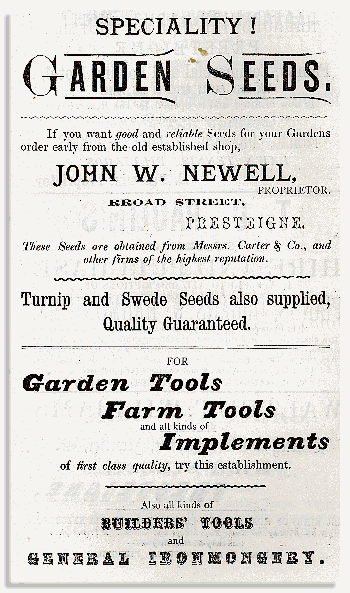 Advertisement from July 1893
Presteigne & Discoyd Parish Magazine
Collection of Sadie Cole
1901 Census
Womaston
Name
Position in
household
Age
Occupation
John W Stephens
Head
38
Farmer
Evangeline Jones
Serv
38
Housekeeper
George Hammond
Serv
20
Carter on farm
Herbert Nicholls
Serv
16
Cattleman on farm
The following pages, to go live with the complete site in the Spring, show the kind of details John recorded in his pocket book about life on the farm:
---