1891

In English

Hafan

Addysg

Amodau Cymdeithasol

Bywyd yn y Cartref

Cyfraith a Threfu

Cymuned

Diwylliant

Gofal Iechyd

Gwaith

Powys: Y Pryd Hynny a Nawr

Trafnidiaeth


Mynegai


E-bost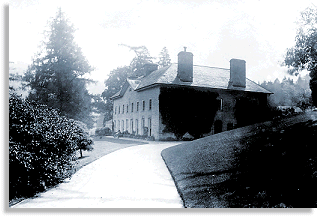 Bywyd yn y Cartref
Teulu Lewis Lloyd
Roedd Teulu Lewis Lloyd yn dirfeddianwyr mawr led led Prydain, ac ymhlith eu heiddo ym Mhowys oedd Nantgwyllt yng Nghwm Elan
Yn gynharach yn y bedwaredd ganrif ar bymtheg, bu Shelley, y bardd, yn aros yn y ty hwn. Ceisiodd ei brynu, ond ni fu'n llwyddiannus. Cafodd Nantgwyllt ei foddi yn ddiweddarach pan adeiladwyr cronfeydd dwr Cwm Elan. Gellir gweld mwy am hyn ar dudalennau Prosiect Hanes Digidol Powys.
Ychydig sydd wedi'i ysgrifennu am deulu Lewis Lloyd eu hunain. Serch hynny, roeddent yn byw yn Nantgwyllt adeg cyfrifiad 1891.
1891 Census
Nantgwllt House, Llansantffriad Cwmdeuddwr
Name
Position in
household
Marital
status
Age
Occupation
Place of Birth
English/Welsh
speaker
Robert Lewis Lloyd
Head
M
55
Barrister
Cardinganshire Llanigonmore
English
Mary Anne Jane Lewis Lloyd
Wife
M
55
Cardigan ?
English
Robert Wharton Lewis Lloyd
Son
S
25
Articled clerk to solicitor
Cardigan Aberystwyth
English
James Edward Lewis Lloyd
Son
S
20
Radnor Cwmdauddwr
English
Louisa Beatrice Lewis Lloyd
Dau
S
23
Radnor Cwmdauddwr
English
Mary Anne Jane Lewis Lloyd
Dau
S
19
Breconshire Brecon
English
Cecilia Joan Lewis Lloyd
Dau
S
18
Breconshire Brecon
English
Gertrude M Constance Lewis Lloyd
Dau
S
12
Gloucester Cheltenham
English
Charles H D Morland Lloyd
Visitor
S
25
Surgeon
Berkshire Abingdon
English
Edith Howlett Wilkinson
Visitor
S
20
Natal British Subject
English
Annie Howlett Wilkinson
Visitor
S
19
? British Subject
English
Evan Roderick
Servant
S
31
Butler
Carmarthenshire Tally
Both
Eliza Anne Lloyd
Servant
S
32
Ladies maid
Norfolk Baildon
English
Laura Elinor Mitchell
Servant
S
26
House maid
Gloucester
English
Alice Leighton
Servant
S
21
House maid
Gloucester Pauntley
English
Jessie Tomkins
Servant
S
21
Laundry maid
Hereford Kington
English
Annie Davies
Servant
S
19
Kitchen maid
Carmarthen Cenarth
Both
Thomas Richard Mills
Servant
S
17
Footman
Radnor Nantmel
English
Alicia Hayes
Servant
Wid
45
Cook
Ireland Dublin
English
Ymhlith y gwahanol bapurau o gasgliad Lewis Lloyd, roedd nifer o lyfrau nodiadau wedi'u hysgrifennu â llaw yn cynnwys rysetiau, meddyginiaethau cartref, tip y cartref, ffisig i gwn, a phatrymau gwau a chrosio.
---