Home Life
Lewis Lloyd Collection: Recipes - Vegetables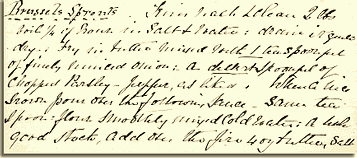 Brussels Sprouts
Powys County Archives
Brussels Sprouts
Trim, wash and clean 2 lbs.
Boil ¼ of hour in salt and water: drain it quite dry. Fry in butter mixed with 1 teaspoonful of finely minced onion, a dessertspoonfull of chopped parsley, pepper, as liked. When a nice brown pour over the following sauce - sauce teaspoon flour smoothly mixed cold water, a [?] good stock, add [?] the fire 4 oz butter, salt. Keep stirring all the time with wooden spoon last of all a squeeze of lemon.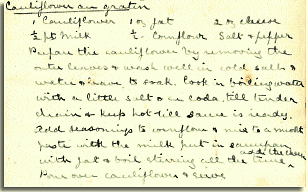 Cauliflower au gratin
Powys County Archives

Cauliflower au gratin
1 Cauliflower
2 oz cheese
½ oz cornflour

1 oz fat
½ pt milk
salt and pepper
Prepare the cauliflower by removing the outer leaves and wash well in cold salt and water and leave to soak. Cook in boiling water with a little salt and car. Soda till tender. Drain and keep hot till sauce is ready. Add seasonings to cornflour and mix to a smooth paste with the milk put in saucepan with fat and boil stirring all the time. Add the cheese. Pour over cauliflower and serve.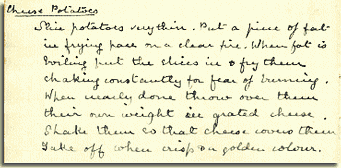 Cheese Potatoes
Powys County Archives
Cheese Potatoes
Slice potatoes very thin. Put a piece of fat in frying pan on a clear fire. When fat is boiling put the slices in and fry them shaking constantly for fear of burning. When nearly done throw over them their own weight in grated cheese. Shake them so that the cheese covers them. Take off when crisp and a golden colour.
---