Home Life
Lewis Lloyd Collection: Recipes - Salads & Pickle
Salads

Good Salad Dressing
2 hardboiled yolks of eggs
3 tablespoons mixed vinegars
2 teaspoons castor sugar
2 tablespoons cream

5 tablespoonfuls salad oil
2 tablespoons French mustard
1 teaspoon salt
1 tablespoon Claret.
Mix salt, pepper and mustard; rub yolks of eggs; mix gradually all the other ingredients beginning with mustard. Put in bottle and shake well.
Pickle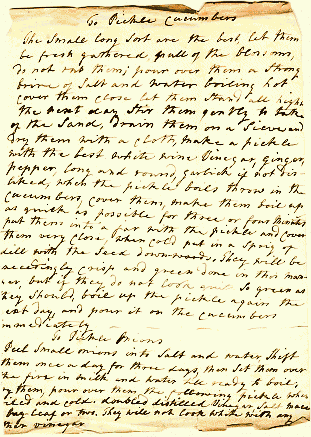 To Pickle Cucumbers
Powys County Archives
To Pickle Cucumbers
The small long sort are best, let them be fresh gathered, pull of the blossom, do not rub them; pour over them a strong brine of salt and water boiling hot cover them close let them stand all night. The next day stir them gently to take of the sand, drain them on a sieve and dry them with a cloth, make a pickle with the best white wine vinegar, ginger, pepper, long and round, garlick if not disliked, when the pickle boils throw in the cucumbers, cover them, make them boil up as quick as possible for three or four minutes put them into a jar with the pickle and cover them very close, when cold put in a sprig of dill with the seed downwards. They will be exceedingly crisp and green done in this manner, but if they do not look quite so green as they should, boil up the pickle again the next day, and pour it on the cucumbers immediately.
To Pickle Onions
Put small onions into salt and water, shift them once a day for three days, then set them over the fire in milk and water till ready to boil, [?] them, pour over them the following pickle when [?] and cold. Doubled distilled vinegar, salt, mace, bay leaf or two. They will not cook white with any other vinegar.

To Pickle Walnuts
Powys County Archives
To Pickle Walnuts
Put them in common vinegar, with a Handful of Salt to them, let them remain a Month or Six weeks, when they have been thus soaked, take the strongest vinegar you can get and put to it cloves, mace, long pepper, ginger, horse-raddish, and Salt, boil it, when cold wipe the Walnuts with a Soft cloth and put them into pots with the above pickle add to every pot, a spoonful of Mustard Seed and some cloves of garlic.
---