Home Life
Lewis Lloyd Collection: Recipes - Fish & Vegetarian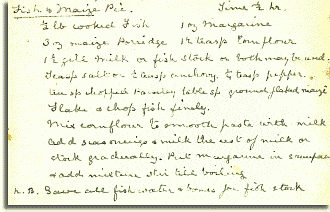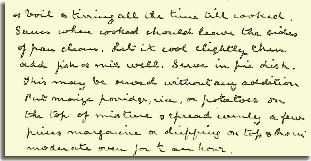 Fish and Maize Pie
Time ½ hour
½ lb. cooked Fish
3 oz maize porridge
1 oz margarine
1 ½ teasp cornflour
1 ½ gill milk or fish stock or both may be used
teasp. Salt or ½ teasp. Anchovy. ¼ teasp. Pepper
teasp. Chopped parsley
tablesp. ground flaked maize
Flake and chop fish finely.
Mix cornflour to smooth paste with milk.
Add seasonings and milk the rest of milk or stock gradually. Put margarine in saucepan and add mixture stir till boiling and boil stirring all the time till cooked. Sauce when cooked should leave the sides of pan clean. Let it cool slightly then add fish and mix well. Serve in pie dish. This may be served without any addition. Put maize porridge, rice, or potatoes on the top of mixture and spread evenly a few pieces margarine or dripping on top and do in moderate oven for ½ an hour.
NB Save all fish water and bones for fish stock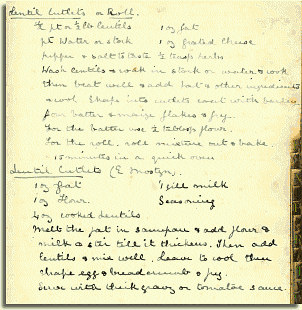 Lentil Cutlets or Roll
Powys County Archives


Lentil Cutlets or Roll
½ pt or ½ lb. lentils
pt water or stock
pepper and salt to taste
1 oz fat
1 oz grated cheese
½ teasp. herbs
Wash lentils and soak in stock or water and cook then beat well and add fat and other ingredients and cool. Shape into cutlets coat with barley flour batter and maize flakes and fry.
For the batter use ½ tablesp. flour.
For the roll, roll mixture out and bake 15 minutes in a quick oven.
Lentil Cutlets (E Mostyn)
1 oz fat 1 gill milk
1 oz Flour seasoning
4 oz cooked lentils
Melt the fat in saucepan and add flour and milk and stir till it thickens. Then add lentils and mix well. Leave to cool then shape egg and breadcrumb and fry. Serve with thick gravy or tomatoe sauce.


Macaroni cheese cutlets
Powys County Archives
Macaroni cheese cutlets
2 oz macaroni 1 egg
2 oz grated cheese pepper and salt
Boil macaroni in salt and water for half an hour. Chop fine and mix with the cheese and flavour. Beat up egg and use half to bind leave to cool. Shape into cutlets egg and breadcrumb and fry.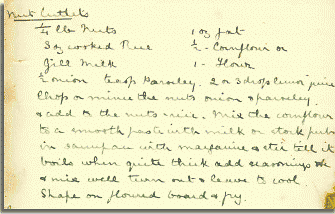 Nut Cutlets
Powys County Archives

Nut Cutlets
¼ lb. Nuts
3 oz cooked rice
Gill milk
½ onion
1 oz fat
½ oz cornflour or 1 oz flour
teasp. Parsley
2-3 drops lemon juice
Chop or mince the nuts, onion and parsley and add to the nuts and rice. Mix the cornflour to a smooth paste with milk or stock put in saucepan with margarine and stir till it boils when quite thick add seasonings etc. and mix well turn out and leave to cool. Shape on floured board and fry.
---