1891

In English

Hafan

Addysg

Amodau Cymdeithasol

Bywyd yn y Cartref

Cyfraith a Threfu

Cymuned

Diwylliant

Gofal Iechyd

Gwaith

Powys: Y Pryd Hynny a Nawr

Trafnidiaeth


Mynegai


E-bost





Diwylliant
ac Adloniant
Staff yng Nghraig-y-Nos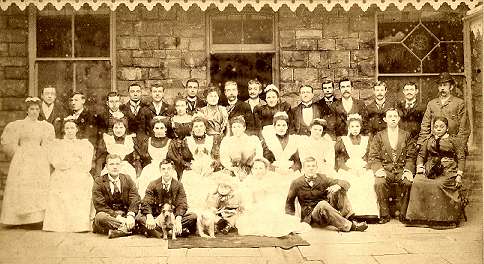 Staff yng Nghraig-y-Nos, tua 1893.
Gwelir Adami, y cogydd yn sefyll o fewn ffrâm y drws ar y dde.
Mae Patrocini yn eistedd ymhellach ar y dde.
Amgueddfa ac Oriel Gelf Brycheiniog
Yn ystod ei blynyddoedd yn briod ag Ernest Nicholini, cynhaliodd Adelina Patti nifer o bartïon a pherfformiadau yn y Castell ac roedd angen nifer fawr o staff ar gyfer ei ffordd foethus o fyw. Ar un adeg, roedd saith deg aelod o staff, a oedd yn darparu llawer iawn o waith a llewyrch i'r gymuned leol. Roedd hi'n gyflogwraig ffyddlon a hael iawn ac yn ôl pob golwg, roedd y staff yn meddwl y byd ohoni. Bu'n gofalu am ei staff hyd yn oed pan nad oeddynt yn cael eu cyflogi ganddi bellach, gan ganiatáu iddynt fyw yn y castell pan nad oedd ganddynt unrhyw le arall i fynd.
Roedd Ethel Rosate-Lunn, a aeth i weithio i Madam Patti ar ddechrau'r ugeinfed ganrif yn cofio bod y staff ". . . lived together like a happy family." Hefyd, mae'n cofio sut y byddai'r Madam yn:
". . ..often invite the staff to dress in any fancy dress available and assemble after dinner in the billiard room. Madame, too, would often dress in fancy dress; generally it was a dress that she had worn in opera, and for a while she would enjoy herself with us. Then she would turn to Daniel Longo, the butler, and say 'Pop the corks Longo', this being the signal for the drinks, and we would all, Madame included, drink a glass of champagne or port. I well remember a night when she entertained us by dancing and playing the castanets. What a delightful figure she made as she danced and played in Spanish costume."
Roedd y Nadolig hefyd yn amser hapus i'r staff yng Nghraig-y-Nos. Serch hynny, ychydig iawn o loddestau a miri a gafwyd yn ystod priodas olaf y Fadam â'r Baron Cedestrom. Dim ond pan y byddai ef oddi cartref y byddai'r gloddestau hyn yn digwydd. Ymddengys bod y Barwn yn credu bod angen bod yn llawer iawn mwy gofalus gydag arian o fewn y cartref nag yr hyn oedd yn arfer gan y Fadam.was also a happy time for the staff at Craig-y-Nos.
Nid oedd y Madam gartref pan gynhaliwyd cyfrifiad 1891 ond roedd ei chartref yn cynnwys y bobl ganlynol, oedd yn hanu o bell ac agos:
1891 Census
Craig-y-Nos Castle, Ystradgynlais Higher
Name
Position in
household
Marital
status
Age
Occupation
Place of Birth
English/Welsh
speaker
Signor Nicolini
Head
M
66
Living on his means
Tours France
French, English, Italian, Spanish
A Nicholas
Visitor
M
68
Living on his means
Tours France
French, English
Wilh Heck
Serv
S
40
Steward
Malmedy Germany
German, ?, English
Nicolas Diels
Serv
S
30
Cook
Meune France
French, Spanish
N G Norris
Serv
M
50
Butler
Hampshire
English
Ellen Hartley
Serv
S
30
Cook
Lancashire Liverpool
English
Mary Griffiths
Serv
S
32
Housemaid
Breconshire Ystradgynlais
English
Ann Morgan
Serv
S
27
Housemaid
Breconshire Ystradgynlais
English
Margaret Williams
Serv
S
22
Housemaid
Cardiganshire
English
Rachel Potter
Serv
S
21
Housemaid
Breconshire Ystradgynlais
English
Caroline Potter
Serv
S
16
Housemaid
Breconshire Ystradgynlais
English
Constantine Hibbert
Serv
S
27
Head Gardener
Derbyshire Burslow
English
William Hinton
Serv
S
28
Gardener
Bucks Claydon
English
Thomas F Jones
Serv
S
23
Gardener
Shropshire
English
David Giddings
Serv
S
21
Gardener
London Highgate
English
David Edwards
Serv
S
21
Gardener
Breconshire Devynock
Both
William Wright
Serv
S
21
Labourer
Gloucestershire
English
Harry Bedice
Serv
S
27
Gardener
Shropshire Lydbury
English
Thomas Bevan
Serv
M
48
Coachman
Pembrokeshire
English
George Marsh
Serv
S
20
Groom
Somerset Church Hill
English
Timothy O'Donovan
Serv
M
50
Game Keeper
Ireland Cork
Both
William May
Serv
M
55
Coachman
Glamorganshire Neath
English
Roedd yna gipar hefyd yn byw yn y Porthdy:
Keeper's Lodge
Name
Position in
household
Marital
status
Age
Occupation
Place of Birth
English/Welsh
speaker
Francis A White
Head
M
30
Gamekeeper
Glamorgan Cowbridge
English
Emma White
Wife
M
25
Glamorgan
English
Cyflogwyd Constantine Hibbert, y Pen Arddwr gan Madam Patti am nifer o flynyddoedd ac roedd dal yno pan bu farw yn 1919. Byddai'n aml yn ymweld â'i fwthyn ar ei theithiau cerdded dyddiol gan ei bod yn meddwl y byd o'i bum plentyn, yn enwedig Hector, ei fab hynaf. Roedd Ethel Rosate-Lunn yn cofio:
". . . Con Hibbert was talking to [Madame] and mentioned that he had rheumatism in his hand. She said to him 'Con, I have seen a ring advertised that is supposed to be good for rheumatism in the hand; I will get you one.' She did so, and she would often ask him if the ring gave him relief and he would say 'Yes Milady.' But as he often said to me there was more diplomacy than truth in what he said."
Roedd dau aelod o staff na chafwyd sôn amdanynt ar y cyfrifiad hwn yn fawr iawn eu parch. Un ohonynt oedd Adamo Adami, oedd yn gogydd a ymunodd â'r staff ychydig yn ddiweddarach a'r llall oedd Lorenza Coureneu de Patrocini.
---